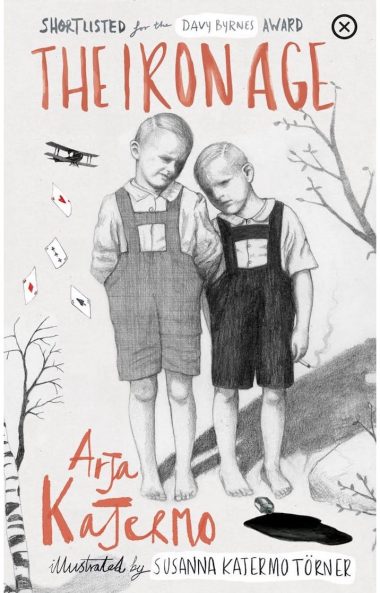 Find Your Local Bookshop
The Iron Age (paperback)
Arja Kajermo
€10.00
Nominated for the Edinburgh First Book Award!
It was Finland, it was the 1950s but on our farm it could have been the Iron Age.
The Iron Age is part-coming-of-age novel, and part-fairy-tale told from the perspective of a young girl growing up in the poverty of post-war Finland.
On her family's austere farm, the Girl learns stories and fables of the world around her – of Miina, their sleeping neighbour; how people get depressed if pine trees grow too close to the house; that you should never turn away a witch at the door; and why her father was unlucky not to die in the war.
The family crosses from Finland to Sweden, from a familiar language to a strange one, from one unfriendly home to another. The Girl, mute but watchful, weaves a picture of her violent father, resilient mother and strangely resourceful brothers.
In this darkly funny debut, with illustrations throughout, folktales and traditional custom clash with economic reality, from rural Finland to urban Stockholm.
Praise for The Iron Age:
'So bleakly funny that it makes Frank McCourt's Angela's Ashes seem idyllic.' – The Irish Times
'Full of hardships and puzzlement and dark humours. A memorable chronicle of a family's struggle during a less well-known period in history.' – Judges of the 2014 Davy Byrnes Award
'This quiet, assiduously written short novel about a girl living in Finland among the looming shadows of war achieves the alchemy every writer would love to conjure up: it's somehow about every childhood, every twilit life. A radiantly beautiful book.' – Joseph O'Connor
'From the very first sentence of this deftly crafted little book – I knew I was in for a treat. Arja Kajermo has achieved that fine thing, the immediate transplanting of the reader into another world, a world which soon feels familiar but is a lifetime's distance away. The writing here is elegantly simple, the scenes drawn without adornment and yet with an immense feeling for detail. I was reminded at times of John McGahern's Memoir, and at other times of Tove Jansson's Summer Book, but for the most part this is a work which exists within its own fiercely independent frame of reference. This is a short tale, simply and richly told, which feels as though it's the culmination of a lifetime's work. An instant classic.' – Jon McGregor
'At a time when so much of our literature rushes into apocalyptic and post-apocalyptic doom, Arja Kajermo's novel is refreshing and reassuring. Deceptively simple yet with cutting insight and devastating humor, The Iron Age proves that the most surreal dwells in reality, and history is the darkest fairytale.' – Yiyun Li
This title is available in trade paperback with french flaps and endpapers. B&W illustrations throughout by Susanna Kajermo Törner. 
Sales queries to sales@tramppress.com.