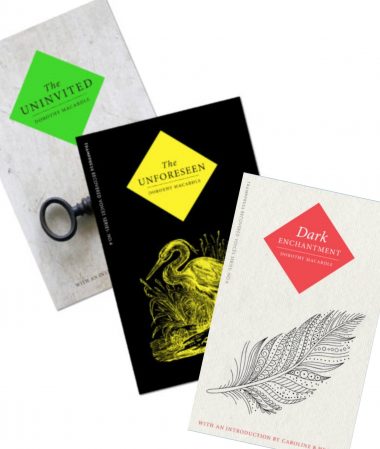 Find Your Local Bookshop
Limited Bundle Offer: Dorothy Macardle x 3
€30.00
We cannot guarantee delivery in time for Christmas, so we recommend shopping with your local bookseller, or one of these great booksellers:
For a limited time only, buy a three book bundle of Dorothy Macardle's The Unforeseen, The Uninvited AND newly published Dark Enchantment for the incredibly special price of just €30.
The Unforeseen 
They would have burnt me in the Middle Ages … witches are a nuisance. They are dangerous.
In 1938, Virgilia Wilde, an Irish writer, leaves England to begin a new life in the tranquil setting of Wicklow with her daughter Nan. As strange visions threaten those around her, Virgilia must decide if she can intervene and prevent tragedies to come, or if her worst fears must play out as she helplessly looks on…
This follow-up to the critically acclaimed haunted-house novel The Uninvited is a sharply observed account of pre-World War II Dublin, as well as a darkly prophetic forecast of things to come. The Unforeseen reaffirms Macardle as Ireland's answer to Shirley Jackson.
The Uninvited
Brother and sister Roderick and Pamela Fitzgerald flee their busy London lives for the beautiful but stormy Devon coastline. They are drawn to the suspiciously inexpensive Cliff End, feared amongst locals as a place of disturbance and ill omen.
Gradually, the Fitzgeralds learn of the mysterious deaths of Mary Meredith and another strange young woman. Together, they must unravel the mystery of Cliff End's uncanny past – and keep the troubled young Stella, who was raised in the house as a baby, from returning to the nursery where something waits to tuck her in at night …
The second in Tramp's Recovered Voices series, this strange, bone-chilling story was first published in 1942, and was adapted for the screen as one of Hollywood's most successful ghost stories, The Uninvited, in 1944.
Dark Enchantment
The village which had so charmed her had grown sinister …
Exhausted after years of unhappiness, 20-year-old Juliet Cunningham is delighted to find herself living in a village in the French Alps. Recovering in the fresh air of the mountains, she becomes involved in local life. As Juliet makes new friends and meets fellow wanderers – such as the handsome young Michael – she hears of stories of witchery, of fortunes told, of spells, and murder … but are the rumours of the witch true, and can Juliet escape in time?
First published in 1953, Dark Enchantment evokes a magical pre-war France, and was written after Macardle's other successful and influential novels The Uninvited and The Unforeseen.
Praise for Dorothy Macardle
'a vanished enchantment … perfect escape literature'
– The New York Times
 'Casts its own spell'
– Kirkus Reviews
'One of the most entertaining Irish novels I've read all year.'
– The Irish Times
'Terrific. A gripping ghost story that warns precisely about the silencing act of history and the dangerous process of transforming women into symbols.' – Dublin Inquirer