6 Nov: Bring Your Own Stories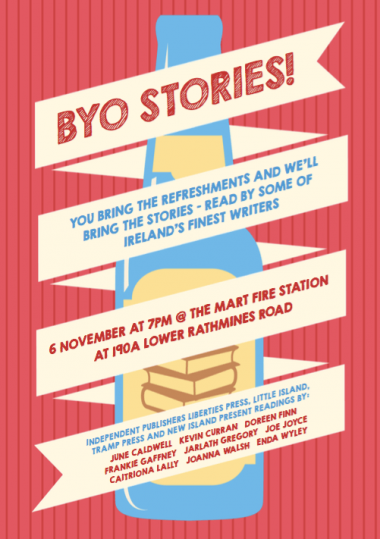 BYO Stories returns! In association with some of our fellow independent publishers, Tramp Press is delighted to participate again in Bring Your Own Stories, a night of readings at the Mart Fire Station, 190A Lower Rathmines Road, on 6 November at 7pm.
The event is free in and all are welcome, you bring the refreshments and we'll bring the authors:
June Caldwell, Kevin Curran, Doreen Finn, Frankie Gaffney, Jarlath Gregory, Joe Joyce, Caitriona Lally, Joanna Walsh, Enda Wyley.
In association with the good people of Liberties Press, Little Island and New Island.