Browser 02: Jogging in a bath full of laundry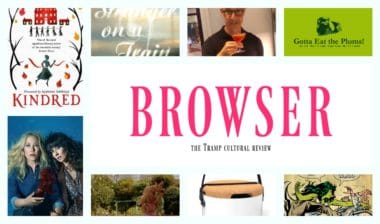 Online

Sarah Davis Goff [SDG]: Is anyone else being attracted to buying the most random nonsense online? I'm seriously considering this mini-barbeque set. I'm not even eating meat at the moment, I just need to FEEL something.
Lisa Coen [LC]: I am obsessed with Stanley Tucci's lockdown diary, 'Cooking your Way through the Pandemic'. He's so funny and fussy – I can't decide if owning two dishwashers is a blessing or a curse, but I find it calming to imagine him loading and unloading them, wiping down countertops and door handles. Sarah, I bet he's got one of those fancy mini barbeques too.

This well-written and beautifully illustrated article about a strange outbreak in a girls' school in Mexico in the early 00s has really rattled me.

And I'm sure everyone's read it by now, but Mark O'Connell's piece about being homesick for home in the New York Times is a beautiful piece of writing, as usual.
Laura Waddell [LW] My friend Calum Rodger, a poet who often works with video game themes, has created a genius Gameboy-esque mini game of William Carlos Williams' poem This Is Just To Say, called Gotta Eat The Plums!

Two great articles on women photographers appeared recently in unintended parallel. Justine Kurland's series on American teen girls roaming the land 1997 and 2002, and Anne Brigman's ethereal, romantic portraits of women in nature taken in the 1900s and 1910s.
Film and TV
SDG: There's a new season of Dead to Me on Netflix! Everyone shut up!
LW: I've also been on the Dead to Me train. Christina Applegate and Linda Cardellini are great. If you haven't seen it, it's a dramedy about murder and co-dependence – but, like, in a fun way.
LC: I managed to watch most of an episode of a Scannal documentary from 2006 about former politician Padraig Flynn and his family. It's wild; there's no other word for it. I love that they named it Flynnasty. You can find it on Youtube. The sooner Netflix commissions a high-budget 12-part series about the Flood Tribunal, the better.
Books

LC: I don't know if I can get away with saying this, but my only reading right now is unpublished manuscripts while we gear up for next year. I'm getting into the weeds with one author on some really interesting developments. I do this all the time: 'Ooh you're going to love this new book that you can't possibly get your hands on for another 12 months!'
They will though, won't they?
LW: They will.
I'm reading Stranger on the Train by Jenny Diski, an account of travelling around the perimeter of the United States in 1997. It begins with a three week journey across the Atlantic on a freight ship, bonding with the crew and recounting saying goodbye, before setting off, to a terminally ill friend back home. Then a series of long train journeys with smoking carriages as central stage for sketches of fellow passengers who've also opted to take the slow route. It's as much about the thrill of being a stranger as it is observation of others.

I haven't been on a train for so long – in more typical times, I'd be constantly back and forth to London for work meetings and author events. I never thought I would miss Scotrail but recently I found myself fantasising about sitting on a train with a coffee, watching the green fields go by.
SDG: There's been some discussion about whether people are extra into dystopia right now or feel the need to actively avoid it. For me neither is true; I just need to be grabbed by something that'll break through the fug. The fug is powerful. Octavia Butler's Kindred isn't dystopia so much as historical horror (ie the worst and scariest kind), I stayed up till about 2 am finishing it one night. A real stunner if you haven't come across this outstanding US scifi writer.

I've also been stealing my husband's comics and getting slightly into She-Hulk. She-Hulk is absolutely not here for your nonsense, I like her.
Lifestyle

LW: I bought skipping ropes in an attempt to get more exercise. The brand calls them Beast Ropes, which I find hysterical. Instead of 'skipping like a beast' as the packaging instructs, I've been doing five minutes at a time feeling like I have weights strapped to my feet. How did we ever do it, without thinking about it, as kids? Was there less gravity in the 80s & 90s? But after the first day, it has indeed gotten easier. Maybe if I keep it up I'll eventually find myself howling at the moon.
LC: I take our son for a walk every afternoon to our local park. I turned on the step-counter app on my phone and was pretty surprised to learn that I've been easily covering ten thousand steps while remaining within the govt-mandated 5km limits. That got me thinking about how people are exercising during lockdown (I love this recent photo gallery from The Atlantic), and that in turn reminded me of this great story I read once about the legendary long-distance runner Emil Zátopek.

Zátopek was famous for how he incorporated interval training into his regime, but he also was known for other unconventional methods, such as jogging in a bath full of laundry for two hours. Apparently there was sudsy water all over the place – but the man won three gold medals in Helsinki in 1952, including one for his marathon debut, plus the clothes were washed! You can read more about him here in this piece by Richard Askwith, or check out Askwith's book Today We Die a Little: The Rise and Fall of Emil Zátopek, Olympic Legend.

I'm really lucky I have a busy toddler who needs to get out and about, otherwise I'd never get any exercise during lockdown. He also counts as weight training, because he's like a very wriggly kettlebell. Maybe I'll emerge from the lockdown in slightly better cardiovascular health. I am of course working to counter that by eating lots of crisps.
 
Anything Else?

LW: Sara Baume was one of a number of artists invited to respond to coronavirus lockdown restrictions for the Glucksman's Home from Home project. She looks at souvenirs and the traditional Irish cottage. Read about it here.

Lockdown has been long and strange and I've sort of lost sense of what I even want to do when it's over, so have really enjoyed the fantasy 'Tell Krish your order!' prompts from @krishithink on twitter. Followers might be asked for our perfect continental breakfast, ideal coffee shop order, fictional meal (the somen noodles from the movie Rentaneko, cooled in streaming water and dipped into sauce on a hot day) or which fictional character we'd dine with (obviously, a glove lunch with Patricia Highsmith's Carol.) I read all the answers every day.
LC: Over on Tiktok, where I thought I was just loitering to see memes and viral dances, there's an incredible opportunity to learn more about indigenous cultures. I see a lot of creators sharing videos in formal regalia, often with a little text about it. People are debunking myths about their cultures, calling out cultural appropriation, and being creative AF. Look for hashtags like #nativeamerican #indigenous on Tik Tok, or read Jessie Lyer's article here, which is full of handy links.
SDG: The discussion on Culture Vulture last weekend with Sophie White and Marian Keyes was a cultural highlight for me this fortnight. It was such a joy to listen to these smart interesting women and it was and a real collaborative discussion – which is my favourite type of interview – places are reached that would not have been got to solo. Marian made a really insightful point about friendships not having the inbuilt capacity or structure for friction (where as relationships do).
One Last Thing
a Tramp Books recommendation:

handiwork is a contemplative short narrative from acclaimed writer and visual artist Sara Baume. It charts her daily process of making and writing, exploring what it is to create and to live as an artist. handiwork offers observations at once gentle and devastating, on the nature of art, grief and a life lived well. We agree with Sebastian Barry who said: "Every devotee of literature and art should read this rare, bright-lit, hard-won book, and every student of life — that is to say, everyone."

Support independent publishing by buying it here or from your bookshop of choice.