Browser 03: wow, I am floating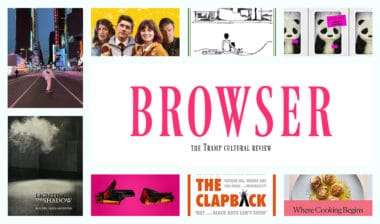 Online
Laura Waddell [LW]: There are many crowdfunders supporting the Black Lives Matter protesters in America. This link is an easy way to split a donation between 70+ community bail funds, mutual aid funds, and racial justice organizers.

This article by Naomi Gessene on being black in the Scottish Gaelic community is a fascinating read. I'm an editor of the Scottish lit mag Gutter, and Naomi is a guest reader for our next issue. She writes, 'Excluding my own siblings, I think I have met around six or seven Gaelic speakers of colour.'
I've also been enjoying the work of a photographer called Andy Sweet. In his bright, kitschy photos he documented elderly Jewish residents of Miami's South Beach, and there's a recently published book of his photographs from a 1977 summer camp filled with the spirit of teen awkwardness and summertime freedom. Tragically he died early, murdered at the age of 29.
This is a beautiful video article about skating the eerie, empty lockdown streets of New York City – from Chinatown to Times Square. One of the skateboarders says 'When you take an avenue, in the center of it, and there are no cars, and you can even see the end of the avenue, and it is so long and big — and you just feel like, Wow, I am floating.'

Sarah Davis Goff [SDG]: Like a lot of other well-meaning white people I'm trying to learn, and luckily online affords plenty of opportunities.
Reni Eddo-Lodge is brilliantly informative (first book rec for you! Just €11.45 from the Gutter bookshop: Why I'm No Longer Talking to White People About Race; brilliant and disturbing, especially the bit with Nigel Farage? Just yikes).  
I've been a bit obsessed with Emma Dabiri since I read Don't Touch My Hair (it's SO good, so smart, so compelling), and she's fantastic on Twitter and Instagram, really worth a follow. Her book is available here from Kennys.

I found this thread on white supremacy, covid 19, and narcissism by Ethan Grey fascinating and troubling.

My biggest 'ohhhh' moment from this brutal past week is that racism doesn't have to be active: often it's about passivity. So, even if you're frightened of doing or saying the wrong thing (which yes, of course), you've got to try; try donate, try march, try shine a light, try use our privileges for good, try and learn. Keep trying. We grow up in a racist country in a racist world and you have to work to try and undo the nonsense we've learned. (Tara Flynn is necessary listening on this in one of her Taranoia podcast episodes right here.)
Film and TV
Lisa Coen [LC]: We regularly watch The Daily Show with Trevor Noah, Colbert, Seth Myers in the evenings. Amber Ruffin, one of the writers for Late Night Seth Myers, does a really funny segment called Amber Says What. Recently, though, she's doing a segment about her experience with the police in the US. She's an excellent storyteller, and her experiences are shocking.

Trevor Noah is essential viewing, and I agree with the LA Times that he's the best current affairs host tackling this moment. His monologues are elegant thinkpieces, but still funny. One of my go-to Youtube clips to cheer me up is Trevor Noah in 2018 talking about his favourite toy.
Finally, I am so excited to see Dating Amber, which premieres today. The trailer looks hilarious, and there's a great team behind it.
LW: Down an internet rabbit hole I found a short Channel 4 doc from 1995 about two young guys working the streets of Glasgow as 'rent boys' and the alienation and hostility they faced from others in the gay/drag scene. (It was later criticised for faking a scene with a punter, but most of it is just the men talking.) Too Much Too Young: Chickens.
Books
SDG: I'm tending towards pretty brutal stuff as usual: The Cake Tree in the Ruins by Akiyuki Nosaka is weird, gorgeous and devastating, I'm lucky to have a really beautiful Pushkin Press edition of it. 

I just started Emily Rapp's memoir The Still Point of the Turning World which is mesmerising. I've never read anyone write so well about the physical leaks and breaks of emotional trauma. It's really tough and sad and beautiful. 

I'm re-reading bits of Elijah Lawal's The Clapback: Your Guide to Calling out Racist Stereotypes, it's smart and instructional (and another gorgeous physical object in itself)

LC: Speaking of persuasive speakers, Jericho Brown's award-winning The New Testament is a powerful poetry collection about masculinity, death and race. I see a lot of people on Twitter have been sharing 'Bullet Points' from his collection Tradition. Here it is.

Lighting the Shadow by Rachel Eliza Griffiths is another poetry collection I'd recommend. Her writing is subtle and incisive, and is beautifully informed by her being a visual artist. I read it in 2016 and often think about this line: 'Above, God waits like a mirror.' She has a new collection, Seeing the Body, that's out this week.

I also saw on Twitter that Niven Govinden is launching an imprint called Leather Bar '79 'to publish queer PoC fiction and non-fiction next year.' He's going to post more about it later in the summer, so I'll be watching for that. Niven is the author of 'Animal Heart', a short story we published in A Kind of Compass in 2015. It's short and packs such a wallop. I think it's the story we get the most feedback about from that anthology, along with Yōko Ogawa's tender, sad and ultimately funny story 'Six Days in Glorious Vienna'.
LW: I stayed up 'til 5am one night finishing Little Eyes by Samanta Schweblin (translated by Megan McDowell) the other day. I loved her first novel Fever Dream, so I'd been looking forward to this. It's about small robot animals with cameras inside which become a fad. Users sign up to be a keeper, letting it trail around after them, or a dweller, watching through the eyes of a device anonymously. Connections are random, and cannot be switched. People try to communicate through them, and find ways to use them creatively and abusively. Clearly there are overarching themes of surveillance, lifestyle, and how we voluntarily give away information. Schweblin is very, very skilled at ratcheting up dread. I preferred the eco-horror and subtlety of Fever Dream, but Little Eyes is just as gripping.

I've just started the debut novel Lote by fellow Glaswegian Shola von Reinhold, which is part of Jacaranda's Twenty in 2020 initiative publishing black writers. I'm not far in but enjoying the arch, artsy, queer voice and lavish aesthetic predilections of Mathilda, the lead character. Obsessed with the 'bright young things' of the 1920s, she discovers in an archive a photograph of Black Modernist poet Hermia Druitt, and seeks out more. There are some scathing, witty lines – "James went back out, visibly red – rose red. Or actually, I thought, carnational."
Lifestyle
LC: Well for all my notions of unlocking my inner Emil Zátopek last time we spoke, I injured my foot, and so this week's self-care product I'll be recommending is Voltarol gel, as advised by my GP. I fantasise about smearing it all over myself while I watch the news.

Tell me you guys have some good food stories for me. I'm living off coffee and Hula Hoops and I think I'm getting scurvy.

SDG: Are we still eating? I'm mostly getting by on Sherbert Fountains.
LW: Is this junk food week and we didn't plan it?

I'm newly obsessed with the traditional vanilla gelato from Paisley company Porelli, which I added to my chip shop order last weekend. It tastes so good – creamy and wholesome.

And I've been enjoying slowly looking through Where Cooking Begins by Carla Lalli Music, one of the Bon Appetit crew. I haven't cooked anything from it yet but it's a good looking book. Maybe I'll rediscover vegetables there.

To compound on the millennial pound cliche, I've also been eyeing up Glossier's Skywash eyeshadows in the shades Pool and Terra. Yes! Make my eyes diffused and soft! Make the whole of me diffused and soft!
Anything Else?

LW: Run the Jewels 4 is out! I've been a fan since the adrenaline of Meow the Jewels got me through my dissertation. They released the new album a couple of days early because "the world is infested with bullshit so here's something raw to listen to while you deal with it all." There's a pay what you want option for download online, with proceeds going to the National Lawyers Guild's efforts to help progressive organisations. While there I also ordered this sweet t-shirt. The artwork isn't just digital – a model of the hands were actually made by Tim Saccenti and photographed.
LC: In a previous Browser, I talked about trying to learn the names of local plants, trees, birds and so on. I'm making slow progress and one thing that's been useful and has brought a fun gaming component to it is the Seek app. You tell it your location, snap a photo of the plant you're trying to identify, and it does a search based on a database of flora and fauna in your area. It'll tell you some facts about the plant, and you can save the photo to build up your own little collection to win badges. I have to say, I really enjoy it when apps award me badges.
One Last Thing
a Tramp Books recommendation:

handiwork is a contemplative short narrative from acclaimed writer and visual artist Sara Baume. It charts her daily process of making and writing, exploring what it is to create and to live as an artist. handiwork offers observations at once gentle and devastating, on the nature of art, grief and a life lived well. We agree with Sebastian Barry who said: "Every devotee of literature and art should read this rare, bright-lit, hard-won book, and every student of life — that is to say, everyone."

Support independent publishing by buying it here or from your bookshop of choice.