Browser 04: On a fruit buzz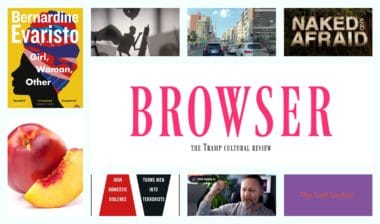 Online

Lisa Coen [LC]: Our designer Fiachra can always be relied upon to send over a good link, and this week it's 'Just Because They've Turned Against Humanity Doesn't Mean We Should Defund The Terminator Program' by Carlos Greaves.
Sarah Davis Goff [SDG]: It's hard to think about anything but protests and pandemics just now, but I really like the light relief of Sylvia Plath's Food Diary (@whatsylviaate) on Twitter. 'By the age of nine I had developed a passionate taste for cold vichyssoise and caviar and anchovy paste.' Sounds delicious but I am pregnant and not to be trusted. 
Laura Waddell [LW]: Worth a read is this Jezebel advice column by Brandy Jensen on the spread of online transphobia: My Close Friend is Being Radicalised on the Internet and I Don't Know What To Do. "I feel like she's spending quarantine on YouTube being inducted into the alt-right."

Internet sensation food mag Bon Appetit has imploded since our last Browser. I had to cancel my print subscription after the deeply gross revelation only white contributors have been paid for video appearances. Here's Soleil Ho on how food media in general has a race problem.

On a lighter note, the best tribute to the late Vera Lynn was this inspired techno cover of We'll Meet Again by Limmy.

And if you'd like to simulate the sensation of getting an Uber to the airport in a foreign city, check out Drive and Listen, which plays video of driving around accompanied by local radio. Choose from Beijing, Dehli, Oslo, Warsaw, and many more.
Film and TV
LW: I was on the cultural panel of BBC Radio Scotland's Afternoon Show earlier in the week discussing the French Netflix dramedy Call My Agent and haven't stopped watching since. I mean, I stayed up to 4am two nights in a row clicking next episode. There are three seasons up, why hadn't I watched it before I was tasked to? It's basically Mad Men meets The Thick of It, set in a film agency as chaotic as the stars they represent. One of my favourite screen tropes is behind-the-scenes freaking out – whether flustered civil servants or raging publicists – and this really delivers.

And of course, because it's set in Paris, it's inherently chic and I've been living vicariously through it while still in lockdown. It makes me want to wear a sharp shouldered blazer and dominate a meeting. A particular highlight is actress Camille Cottin playing a steely, well dressed, and work obsessed lesbian film agent. Urgh, so good.
SDG: I've (mild) health issues with my lungs which has made me a little more careful than the average when it comes to going outside and interacting with people during the epidemic. I've been mostly shut-in for the last four months. I was into Naked and Afraid beforehand but now I'm full-on obsessed.

You get dropped in the wilds somewhere (generally somewhere with alligators and no fresh water), you get to bring ONE thing with you, and you've to survive for 21 days. No clothes, no shoes even … I always start out by envying the contestants for being alone in the wild, and I always finish up by being really glad I can get a Coke from the fridge and then sleep in a bed with sheets and everything. (I'd kind of love to do it though? Idk.)
LC: Gang, I am beside myself after seeing this animated short/teaser for the Candyman remake. (shadow puppetry by Manual Cinema, score created by Robert Aiki & Aubrey Lowe).
It's been years since I saw the 1992 version with Tony Todd and Virginia Madsen, but that was a good urban gothic movie, wasn't it? Any time there's an unexpected face in a mirror in a scary movie, it's guaranteed to frighten the daylights out of me.

I feel like a lot of horror at the time was getting a bit too wink-wink – other mainstream horror films that year included campy classics Francis Ford Coppola's Dracula, Buffy the Vampire Slayer and a lot of sequels like Pet Sematary Two, Alien 3, Children of the Corn II, Hellraiser III, Scanners III, Prom Night IV – you get the idea. But Candyman was a film taken from a Clive Barker short story and moved from Liverpool to inner-city projects in America and drawing on racism and the legacy of slavery to inform its mythology. They emphasised the profound sadness of the origin story. Here's a good piece about giving it a rewatch.
The 2020 Candyman is directed by Nia DaCosta and written by Jordan Peele, so I'm really excited for this. Apparently it's a 'spiritual sequel' to the original but you don't have to have seen the old one to enjoy it. (Is 'enjoy' the word?) DaCosta tweeted that extraordinary animation with the words:
'Candyman, at the intersection of white violence and black pain, is about unwilling martyrs. The people they were, the symbols we turn them into, the monsters we are told they must have been'. The trailer looks great too.
Horror Noire, a documentary on the history of Black horror films and how Black characters have been treated over the years is an excellent insight and makes me watch to watch Night of the Living Dead again.
Books
SDG: Like everyone else in the world (which, woo hoo!), I'm at last reading Girl, Woman, Other by Bernadine Evaristo; the Black woman to top the UK Bestseller Charts. How fucking wild and maddening that this is the first? It's great of course – great voice, great perspective, totally bending form to function in terms of narrative style. 

So, I'll be honest; as a publisher I get a little stomach-ache when I see the UK bestseller lists coming out on a Friday afternoon. There is a lot of dross on there as a rule. But the list now is genuinely exciting – Reni Eddo Lodge, Emma Dabiri, Candice Carty-Williams, Layla Saad – it's a real go-to in terms of excellence. 

LC: I really enjoyed Girl, Woman, Other too – one thing I think about is Evaristo's attention to what characters wear and how they seek to project a look. I think that's hard to do well and she nails it.
I was thinking recently about how certain high-profile transphobes have been trying to use stories of assault and domestic violence to justify further victimising trans people. You know what's a more interesting and verifiable link to make? The one between domestic violence and terrorism. I found Joan Smith's Home Grown: How Domestic Violence Turns Men Into Terrorists very compelling reading.

She gives example after example of terrorist attacks (the London Bridge attack, the Charlie Hebdo attack, the Manchester bombing, for instance) and then talks about the role that domestic violence had to play in the lives of the attackers, and, interestingly, how little ideology has to do with it. If we were more vigilant about complaints of domestic violence, Smith argues, we could get ahead of future terrorist attacks. It's published by Quercus.
LW: I was already biased as he's one of my best buds, but Liz Lochhead also says Henry Bell is one of the best young poets in Scotland. His new pamphlet, The Last Lochan, is just out with Spec Books who are a great small indie press in Glasgow. I've been enjoying reading the poems one by one, appreciating the tender word choice and span of local to global interest. Here's one about the hottest day on record called On The Day We Destroyed the World I Ate a Peach.

Reading the books of people you know well and picking up their personal inflection is always a kick. I like how this one combines Henry's interests of politics and eating fruit. The last time I visited him and his baby, back in February before lockdown, he offered me candyfloss grapes and some other weird fruit I can't remember the details of other than its oddity.

Lifestyle
LW: I've been living in these oversized joggers from ASOS recently. Very comfy, very soft, very… lockdown.

In the opposite direction, I impulse bought this mint green nightdress embroidered with roses, which feels vaguely ghostly. If you need me, I will be on a fainting couch somewhere, weeping while I clutch some faded handwritten letters.
SDG: If last fortnight was about junk, I'm now on the fruit. I'm eating just way too much fruit, I'm spending all my money on nectarines from M&S.
LC: Oh yeah, I'm on a fruit buzz as well, sort of. I've made an apple cake a few times, based on a really lovely recipe my mother gave me. I'm trying to figure out how to convert it into smaller cakes, so I've been trying different sizes of mini loaf tins. I haven't got it yet, and it's diffult to find bramley apples in my part of town, so I'm sorry to say it's become one of those little obsessions. I also ate an entire packet of fruit gums in the time it took me to type this paragraph.

My local pharmacy is selling little cans of La Roche-Posay Thermal Spring Water for four quid, and it feels like a tremendous extravagance. I highly recommend misting yourself like the delicate orchid you are underneath that stern publisher exterior.

LW: It's all about pears for me at the moment. Pears are underrated.

Anything Else?
SGD: Roe McDermott, Irish Times columnist, film critic, talent extraordinaire! Please listen to the first episode of R and R Rated, her podcast with Rory Cashin, where they chat about gender, sex and movies; the first episode is about Basic Instinct and it's SO GOOD (the podcast natch, not the movie) – smart, incisive, funny and fascinating. 
LC: While we're speculating about Joe Biden's possible running mate, and fretting about how the November election in the US is going to go, another Trump tell-all has been published. This time it's The Room Where it Happened by former National Security Advisor and guy-who-wants-you-to-know-he-saw-Hamilton, John Bolton. Lots of sites are reporting on the various revelations in the book, and I have to say, kudos to Dan Friendman at Mother Jones for this perfect headline: 'Say It Under Oath, Asshole'.

Quite.
One Last Thing
a Tramp Books recommendation:

handiwork is a contemplative short narrative from acclaimed writer and visual artist Sara Baume. It charts her daily process of making and writing, exploring what it is to create and to live as an artist. handiwork offers observations at once gentle and devastating, on the nature of art, grief and a life lived well. We agree with Sebastian Barry who said: "Every devotee of literature and art should read this rare, bright-lit, hard-won book, and every student of life — that is to say, everyone."

Support independent publishing by buying it here or from your bookshop of choice.