Browser 05: down at the farm with guest Kaite Welsh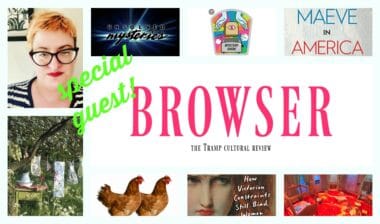 This week we're joined by a guest browser!

Kaite Welsh is the author of the Sarah Gilchrist mysteries, where a fallen woman turned medical student in Victorian Edinburgh is drawn into the murky and often murderous underbelly of the city and its secrets. The Wages of Sin and The Unquiet Heart are published by Headline in the UK and Pegasus in the US. The Fate of Empires will be out in 2021 along with Keep Your Clothes On: Erotic Stories About Fashion From Queer Womxn which she is editing for Cleis Press.
Online

Kaite Welsh [KW]: I've fallen down the most beautiful internet rabbit hole in the past few months – the cottagecore aesthetic. It's been around on Tumblr for a few years, inspired by the Japanese mori girl trend, and now it's taking over TikTok. It's basically just living your life as though you were in a rustic little cottage, growing your own vegetables and baking and talking to the bees. It's perfect for quarantine life and even just just browsing through r/cottagecore on Reddit is a good way to reduce my tension. It also means I've been doing a lot of gardening.
My relationship to femme has shifted in lockdown, now there's nowhere to wear blazers and dramatic lipstick and my usual hard femme drag. I'm covered in soil, sand or flour more often than not and half the time my nail polish is chipped. So Andi Schwartz's interview with Morgan Bimm, On Being a Dirtbag Femme, came exactly at the right time – it's about queer feminine identity and how that works when you're living a more outdoorsy, practical life. Schwartz notes that "femme is fundamentally about pleasure", and while the aesthetic pleasures I'm used to feel unreachable right now, the sensory pleasures of working with my hands are literally at my fingertips. Plus, even covered in dirt I look adorable in flowered dungarees. 
Laura Waddell [LW]: I recommend a lot from the New Yorker and New York Times, because I'm trying to justify my subscriptions. But I've been enjoying browsing NYT's Overlooked series, 'a series of obituaries about remarkable people whose deaths, beginning in 1851, went unreported in The Times.' It's such a great idea for a feature, and is a little like our Recovered Voices series which publishes writers who haven't had the enduring legacy they deserved.

Overlooked profiles include figures like SCUM Manifesto author Valerie Solanos, and people I hadn't heard of such as Kate Worley who created erotic comics featuring anthropomorphic cats in the 1980s, and Earl Tucker, a 1920s dancer in Harlem clubs whose hip based moves were scandalising people before Elvis came along.
Sarah Davis Goff [SDG]: I loved Kathy D'Arcy's recent essay in the Honest Ulsterman about recovery and representation in Irish literature: her words about the emotional work we have to do in starting uncomfortable conversations and remaining open-hearted in their service gets to the heart of activism. 

Though I actively seek out a diversity of writing talent in my reading now, for most of my life my reading has been pale, male and stale – because this is what's branded as 'education'. In interrogating the past more thoroughly and lifting up the forgotten, ignored and misrepresented as Kathy suggests we can all do much better. 
Lisa Coen [LC]: Still obsessed with Tiktok over here. Someone I recommend following is young Irish mother @shannonbyrne_mp, who speaks about her experience of being homeless and raising her children in a hotel. It's scary to think what the Covid crisis has done for homeless people in Ireland – for instance some homeless services require people to leave early in the morning and be out all day, and obviously the lockdown rules here would affect that. Check out her Tiktoks for her experience.

Film and TV

LW: The three part documentary China: A New World Order is back up on BBC iPlayer, and alongside examining the Xi Jinping government's treatment of the Uighers and foreign investment in infrastructure, it provides some context on what's happening right now in Hong Kong.

For the lowest brow stoner tv, check out Floor is Lava on Netflix. It's that game kids play jumping around furniture to avoid the floor, but on the lowest budget set with bubbling 'lava'. When players fall in the lava, they're never seen on screen again, as though they have literally died.
LC: Have you watched the new Unsolved Mysteries on Netflix?! I am beside myself. They've kept the old theme tune, and the title card font (which, lol), and they've made the smart decision not to get a new narrator to replace the beautiful voice of Robert Stack. I remember watching it as a kid and enjoying fairly daft stories about UFOs, or spontaneous combustion, but I could be misremembering.

Episode 2 is about the 2004 murder of Alonzo Brooks. His family maintain –with good reason – that the 23 year-old was the victim of a hate crime, but the investigation at the time was inconclusive.

Since the Netflix show aired, the FBI Department of Justice reopened the case just this month. They say they have new leads as a result of the renewed interested in the case due to the Netflix series. They're offering a cash reward of $100,000 for new information that leads to the case being solved.

My heart breaks for his mother when she talks about wearing his jacket to feel close to him. It's a devastating story.
KW: My go to comfort watch will always be historical crime, so I've been indulging deeply lately. Miss Fisher's Murder Mysteries is a delicious, effervescant series set in 1920s Australia that has all my favourite things – beautiful dresses, murder and an achingly erotic slow burn romance between Phryne Fisher, a Melbourne girl made good turned lady detective, and Inspector Jack Robinson, her fellow sleuth and sparring partner who's nowhere near as humourless as he might like people to believe. 
I've also binge-watched The Bletchley Circle and its sequel, the unpromisingly-named but delightful Bletchley Circle: San Francisco, where a group of former WW2 codebreakers have to settle back into their lives as wives, mothers and respectable spinsters – until a spate of killings draws them all back together. I would follow Julie Graham as the tweed-clad, acerbic librarian Jean McBrian into Hell without a single question. And I am permanently in a state of re-watching The Chilling Adventures of Sabrina, a campy teen horror-fest inspired by the 90s sitcom. I came for the nostalgia value but stayed for the forbidding Aunt Zelda, who starts out as a prim devotee of Satan and goes on a reluctant but compelling feminist awakening via BDSM and a stint as an enchanted Stepford wife. Basically, give me seemingly chilly older women with hidden depths and I'm a happy girl.
SDG: I'd been saving up the last few episodes of Schitt's Creek! 
It really transformed from being a fish-out-of-water show (not my favourite), saved by a few great characters, into something so funny and warm and curiously old-fashioned. Its ending was sort of Austen-esque, with a marriage plot and a sort of invitation given with a warm authorial voice to be part of an odd but lovely community. It's contemporary costume-drama, I love it. 

Speaking of costume drama, I watched Funny Face last night with my husband, the old Audrey Hepburn / Fred Astaire musical. The clothes and dancing are so high-fantasy as to be surreal. I'm not really a muscials person, but it has such vision and flare, it must be about the only functioning bridge between the old classics Fred Astaire first found fame in to contemporary cinema. Even if he does look slightly embarrassed to be playing the love-interest to Audrey Hepburn who was in her 20s while he was pushing 60. 
Books

KW: I've been in a non-fiction kick of late, partly because I'm thinking about how I want the world to look in the future and partly because as a historical novelist I'm permanently researching something. Rachel Vorona Cote's Too Much: How Victorian Constraints Still Bind Women Today hits the sweet spot of Victorian scholarship and contemporary feminist analysis. Rachel is one of my favourite journalists and her debut book doesn't disappoint. She fuses meditations on Charlotte Bronte and Lana Del Ray with memoir and crisp, sizzling feminist rage at the notion of feminine hysteria, a 19th century notion that we have yet to fully dispense with.  
Rust Belt Femme by Raechel Ann Jolie, another favourite of mine, is a spiky, fierce and tender memoir about her working class upbringing, her queerness, her uneasy shift into the supposedly middle class world of academia. It's full-hearted and exhilarating and essential reading for anyone thinking about gender and class.
On the fiction front, I've finally gotten around to reading Mira Grant's In The Shadow of Spindrift House, a Lovecraftian coming of age tale about monsters and growing up. I have to read it in tiny installments because there's something so eldritch and not right about the book. It's one of those books you don't realise you're in the precise mood for until you find it, and thank Cthulu I did
LW: I'm enjoying be happy, the latest poetry pamphlet from Sean Wai Keung, which includes poems about Chinese New Year, OJ Simpson, and Tiger Woods. I've been following his work since pamphlet, how to cook, which is now sold out but was a great collection of 'foodpoems,' which I love.

Here's a conversation between Sean and Nina Mingya Powles, whose pamphlet Tiny Moons: a Year of Eating in Shanghai is also a great read on food and identity.

I subscribe to the Brixton Review of Books, and the latest issue has just arrived, so I'll be enjoying it over the weekend.
SDG: The new Dublin Review and the new Stinging Fly just landed! There are a couple of new voices in each I'm getting excited about in both publications – two of the best literary journals in the world right here at home, we don't know how lucky we are.

LC: Now's a great time to reread Maeve in America by Maeve Higgins, recently republished this side of the Atlantic by New Island (stunning cover design by our own Fiachra McCarthy)

Higgins writes about being an immigrant in the US with profound humanity and intelligence. She shares stories that are funny and upsetting, and I think someone should download the audiobook and just play it on a loop over Fox News for the rest of the year.

She was also recently in an Irish film called Extra Ordinary. It's about a driving instructor with supernatural powers. I can't wait to see it. She also hosts a podcast with Mary Robinson about climate change. She's amazing.
Lifestyle

LW: I enjoyed this interview/food tour of NYC with Padma Lakshmi, particularly where she talks about beauty and intelligence. I'm always curious about how those factors interact in self esteem and external perspectives. Padma got a break in modelling when she was spotted by Helmut Lang, and did that for a while, but wanted eventually to be a writer. I was a model when I was younger, just in a local, low key way, and it took a while for my hourly professional rate in the publishing industry to overtake what I'd made on odd jobs for hotel brochures and boutiques.
LC: We're spending a few days with my parents in rural Mayo, so my food situation has improved dramatically. This morning we had fresh scones, and the scrambled eggs came from my mother's rescue hens. It's a relief to see everyone again, especially across the dinner table.

The crèche reopens for us next Monday, so until then I continue to have no lifestyle as such. I did get to have a little knitting tutorial with my mother this morning though, and she taught me how to do cable stitch. I have ambitions for a hat. All going well, you guys are getting hats for Christmas.

SDG: I think I caught the nightdress bug from you two last week, that mint floral arrangement is really something. I'm an absolute sucker for plain old M&S cotton nightgowns and my mother just gifted me a pair, so large that they don't rub uncomfortably against my huge belly at night. I'm in heaven. 
KW: I went hard on the quarantine hobbies. I now have a bike called Eglantine (after Angela Lansbury's bicycling witch in Bedknobs and Broomsticks), a vegetable garden, a compost bin called Bertha, a sourdough starter and two completed embroidery and cross stitch patterns. But the compost bin is the thing that's really nurturing me right now – I've always used 'composting' as a metaphor for that early point in the research process when you're just compiling thoughts and ideas and letting them sit and transmute into something new for a while, and having a physical pile is making me more aware of the practicalities of that metaphor. Beneath the layers of grass clippings, teabags, banana peels and shredded cardboard is clumps of damp, crumbly black gunk – the detritus I've been feeding this new project has turned into a useful substance that can make something new. 
I've also taken to hurling myself into the sea on a daily basis. I live five minutes away from a little bay on the Firth of Forth and I've been swimming there every day for about two months now. At the start of lockdown, I became obsessed with the sea – the way it stretches out towards the horizon when my world was so physically confined, the fact that even going for a paddle was a different sensation at a time where all the sameness blurred the days together. Some days it's chilly and some days it's…well, slightly less chilly because this is still Scotland.
 
Anything Else?

LC: Laura, since you mentioned in our last Browser that you'd bought that elegant nightie for lying around and weeping, I went and ordered a very long floaty dressing gown thing from Bohemian Bali. It's something nice to wear for my morning wine, or perhaps when I'm smashing plates in an elegant rage.
KW: My friend Kate and I started a lockdown ritual of journaling at the same time each morning and choosing a song of the day to listen to as we write. We alternate days – this morning, she chose Edith Piaf's L'Accordeoniste, yesterday I chose the Dolly Ranchers' What Would Johnny Cash Do?. Left to my own devices I would sleep all day, but I can be coaxed out of bed with the promise of music and I find journaling incredibly good for my mental health at the best of times. 
I fell in love with Junebug and Darlin's queer cross stitch deisgns and I needed something to listen to as I sew. A friend recommended the Old Gods of Appalachia podcast, a horror anthology set in the turn of the century mining industry in Kentucky that asks "[h]ow dare we think we can break the skin of a god and dig out its heart without bringing forth blood and darkness?" It's deeply unsettling and utterly compelling. 

LW: I've just listened to episode three of the podcast Mystery Show by Starlee Kine, where she tracks down the owner of an unusual cowboy belt buckle depicting a breakfast tableau, complete with tiny little toast. It's a gentle, heartwarming listen.
One Last Thing
a Tramp Books recommendation:

handiwork is a contemplative short narrative from acclaimed writer and visual artist Sara Baume. It charts her daily process of making and writing, exploring what it is to create and to live as an artist. handiwork offers observations at once gentle and devastating, on the nature of art, grief and a life lived well. We agree with Sebastian Barry who said: "Every devotee of literature and art should read this rare, bright-lit, hard-won book, and every student of life — that is to say, everyone."

Support independent publishing by buying it here or from your bookshop of choice.