Browser 06: f**king gorgeous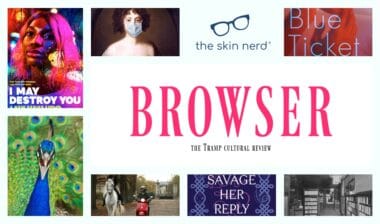 Film and TV

LW: I've been blown away by I May Destroy You recently, and have so much respect for Michaela Coel who recently revealed in interview with Vulture that she rejected a $1 mil offer from Netflix so she could retain full creative control and credit, which paid off when the BBC let her do it her own way. The twelve episodes go on a journey through the aftermath of sexual assault, exploring the mental health impact on lead character Bella who suffers memory loss and confusion. I've never seen storytelling on the subject more nuanced or authentic. Some describe it as a #MeToo tv show, but it focuses more on internal trauma and recovery, than consequences for abusers. And despite the serious subject matter, there's a lot of enjoyment and humour in it too. It's just brilliant.
LC: We're watching Succession here. I say 'watching', it's our most involved binge-watch since The Sopranos or Battlestar Galactica. It's not lost on me that one of the characters calls marriage 'the box set death march' while we press play on the third episode of the evening, but heigh-ho.

I love family drama, I love workplace drama, and I love shows about obnoxious rich people betraying each other. The casting is perfection. Brian Cox conveys so much menace and barely contained rage as he moves through the world destroying everyone around him.

I was astounded when I realised that the character of Tom, the morally bankrupt Midwestern wretch humiliating himself to join the .01% is played by Matthew MacFadyen. This is the tender, handsome Mr. Darcy from Joe Wright's Pride & Prejudice?

His comic timing is outstanding. I can't stop thinking about a scene in which a character he's had a hand in corrupting steps up and very tentatively proposes something despicable. MacFadyen's face in this scene is everything: he looks Greg up and down, and the flashes of anger and disbelief are overtaken by this pure, utter, believable delight. He laughs like he's honestly tickled pink. It's simultaneously the most endearing, funny and appalling moment in a really dark show. This is my favourite kind of comedy, I'm not a subtle person. [gif]
SDG: I'm halfway through the Netflix series Call My Agent after Laura's recommendation a few weeks ago. Watching Cécile de France pretend she doesn't know how to ride a horse is hilarious. Probably it is impossible to find a Frenchwoman (or a Belgian I guess) who isn't also an impressive equestrian? Anyway I'm BET into it, I'm a sucker for shows where women are obsessed with their work and wear glamorous clothes. I feel like we're at least two thirds of the way there at Tramp.
Online

Lisa Coen [LC]: Speaking of dysfunctional family dynamics, wouldn't it be great to weaponise those feelings for good? Say you're registering a new account and you're trying to come up with a strong password. Passive Aggressive Passwords helps you to come up with something by prompting you in a really mean way.
One of my favourite Twitter accounts is @whoresofyore, run by Dr Kate Lister as part of the Whores of Yore project. From the website: '​Whores of Yore is a sex-positive, inter-disciplinary, research project and archive, dedicated to exploring the history of human sexuality and challenging shame and stigma.'

The account offers vintage erotica, older slang words for various sexual acts, photos of historical hotties, and delightful historical medical cases, such as the man who got his penis stuck in a glass bottle.
Laura Waddell [LW]: I'm fond of news stories about malevolent birds. Inside this article about a relentlessly screaming suburban peacock, a suffering resident has penned a haiku.

Earlier in lockdown, literary magazine A Public Space ran a War and Peace readalong with notes from author Yiyun Li, and it was a really welcome daily ritual for a couple of months. The project has moved on to a series of novellas, beginning with The Turn of the Screw led by Garth Greenwell. My Scotsman column this week was on the difference between reading it as a student and now, as an adult in lockdown. Publishers, mags, festivals and bookshops have tried different ways of engaging an audience online during lockdown, with varying success, but this is one of the best events I've seen and has a committed band of readers tweeting along using the hashtag #APSTogether. I dip in and out at leisure.

And here's an enjoyable Paris Review story on Browne's Bookstore, a now lost Chicago bookshop designed by Frank Lloyd Wright, which existed between 1907 and 1912. Author Adam Morgan just tweeted more pictures of it.
Books
SDG: I feel ridiculously lucky to have got an advance copy of Deirdre Sullivan's forthcoming work, Savage Her Reply, which is a re-telling of the story of the Children of Lir. Like all great re-imaginings, it comes at a familiar story from a strange and fascinating angle. So far it's reminding me a lot of Song of Achilles by Madeline Miller – there's that lovely sense of confidence within a historical context, of assurance with the characters, and the pull of a narrative told from a perspective we haven't considered before. The finished copy will have illustrations by the brilliant Irish illustrator Karen Vaughan, can't wait to pick it up this autumn! Pre-orders can be got here. (Worth the few quid just for that stunning opening.)
LW: I'm really enjoying Blue Ticket, the new novel by Sophie Mackintosh who was long listed for the Booker a couple of years ago with her debut The Water Cure. This is another dreamy dystopia. Girls who reach maturity are entered into government lottery. Only those who receive a white ticket are fated to have children. A Blue Ticket woman unsatisfied with her categorisation gets pregnant and goes on the run. I like its minimal, slightly surreal style a lot, and how it plays with the subjects of femininity and society. Aesthetically, if ever adapted for screen, I could picture it being directed by Sofia Coppola.
Lifestyle
LW: Food-wise, I just found out that pine nuts come from pinecones. Who knew? Tell everyone immediately.
I've joined the thousands of people doing Yoga with Adriene on Youtube and wish I'd started earlier in lockdown. I have only ever practised sporadically – I lose interest in fitness fads very quickly – but this is working for me. I'm doing the 30 day Home course. My underused muscles are achy but I'm turning up each day.

And finally, Aveda's Nutriplenish leave-in conditioner is doing a great job of taming my hair, which is very thick and wavy and gets tangled at the back easily, rat-king style, particularly when it has been a while since my last trim. I like the subtle, herbal scent of their products. It's pricy, but I make it last.
LC: This Sunday I'm going for a socially distant pre-dawn swim with some friends. I haven't been in the sea in a really long time, so will probably just dip in for now. I think a cold swim is a good way to close off one phase and start into the new one on your own terms.

SDG: My mother swears she loves ironing; she says she likes to pretend that she's smoothing out all the troubles of her life as she goes. I love that fresh smell just-dried clothes give off when they're being ironed, but, needless to say, not enough to actually do ironing myself. I feel like when I have figured out the time and physical space to iron, I'll have achieved adulthood. (I'm 38.) 

ANYWAY instead I'm ironing my face! I caved and bought the jade roller I was talking about ages ago, and for about two minutes now every morning I roll it gently up my face, pretending that I'm rolling my troubles away – or at least the work of a few hours of gravity. Recommend. 

I really rarely use a sample of something and then think – ooh, must buy, but my last order from The Skin Nerd came with a little sachet of Dermalogica Age Smart Skinperfect Primer (spf 30) (god these long names) and I LOVE it. I moisturise as usual, throw a bit of this on, a little face powder on top, and have this great, light, flexible coverage. Something about this plus the jade rolling (plus realistically those good second trimester pregnancy hormones) is making me feel fucking gorgeous. 
One Last Thing
a Tramp Books recommendation:

handiwork is a contemplative short narrative from acclaimed writer and visual artist Sara Baume. It charts her daily process of making and writing, exploring what it is to create and to live as an artist. handiwork offers observations at once gentle and devastating, on the nature of art, grief and a life lived well. We agree with Sebastian Barry who said: "Every devotee of literature and art should read this rare, bright-lit, hard-won book, and every student of life — that is to say, everyone."

Support independent publishing by buying it here or from your bookshop of choice.