Browser 07: senior citizens on a golf cart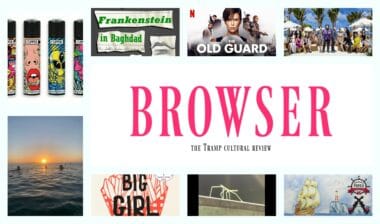 Online

Laura Waddell [LW]: I am all about online this week, for some reason. Strap in for Mr Toad's Wild Ride Through The Web:

First up, you know how we were talking about nightdresses recently? Here's a brilliant article by Rachel Syme in the New Yorker on the phenomenon of the 'nap dress.' "How wonderful it would be, the Nap Dress suggests, to finally be able to rest after all the hand-wringing."

From Vice, How London Has Changed Over 25 Years, Through the Eyes of a Drug Dealer. The article is about gentrification essentially, but there are some striking mental images, like the guy sitting eating his lunch quietly in one of the pubs he trades from, while two of his heavies come in and take out a couple of lairy guys bothering the management.
Mel Magazine is a site I've browse semi-regularly. It's a magazine for men, but without obnoxious machismo, and has some good features, like this history of the OPEC SID, a 1980s hotline which reeled off a list of upcoming NYC punk gigs. "Hi this is OPEC SID, the upcoming show service of the Alternative Press and Radio Council. Our mailing address is 151 First Avenue, Box A as in 'anarchy,' New York, New York, one triple-o three."
I also enjoyed this account tweeting comments left on 1980s UK Rave videos. Each of them could be a short story.
Journalist Graeme Wood writing in the Atlantic about his surreal trip to Disneyworld during the pandemic is filled with grim and hilarious one liners. "In Orlando's airport, I felt a vague sense that Floridians considered such statistics a source of secret pride, as if they had set a record for fattest alligator or ugliest serial killer or most senior citizens in a golf cart."
This intelligent, thoughtful conversation between Pankaj Mishra and Thanh Nguyen in Guardian Books is just brilliant on recent culture war nonsense. "Take, for instance, the insidious Harper's letter, which complains about something usually called "cancel culture" in the midst of the most devastating global crisis since the second world war and massive protests against racism that you rightly call transformative."

I'm going to end this with a cool video of a bug that my friend Amanda sent me in the middle of writing this up. I got so distracted by immediately sending it to five more people that I overwrote my paste of the entire page content with just this video:
Film and TV
SDG: On I think Lisa's recommendation written in an earlier Browser I've been watching some of Netflix's Unsolved Mysteries. I adored the 80s original with Robert Stack (which is in syndication and still easy to grab hold of if you've got Virgin TV) – the mysterious music, the huge room of actors behind the presenter pretending to be doing very busy research on old computers and phones – it has everything. The first four episodes of the refreshed series were pretty grueling and essentially involve families losing loved ones and the police not doing enough to help; deeply interesting and very depressing to watch. But I tuned in again last night to watch an episode about an alien abduction which cheered me right up!

Oh I'm as usual behind everyone here, but I watched a couple of Netflix movies over the weekend and had a ball; The Old Guard is an extremely capable genre movie with for me a great mix of action and cheesiness. The fight scenes were choreographed by Danny Hernandez, and there's a lovely slickness to them that you might nearly recognise from other films he's worked on like Avengers: Endgame.
The characters have thousands of hours of close quarter combat experience, over a range of styles from Greek wrestling to Indonesian silat (I'm cribbing from this article,) but I love how all that is brought to bear in just minutes of great action. The format introduces some surprises and a lot of heart by virtue of the relationships of the small group of heroes. Directed by Gina Prince-Bythewood, who you'll know from Love & Basketball, it's immensely satisfying to watch, a gorgeous, bloody, sweet ballet.

I also watched Spanish horror/dystopia (my jam!) called The Platform directed by Galder Gaztelu-Urrutia. It's one of the most-watched movies on there which is so cool in itself, it's one of those films you find yourself still wondering over days later. Both movies are I guess asking about what kinds of sacrifices you have to make to try and build a better world, which seems ever pertinent.
LC: We're watching the Netflix documentary The Business of Drugs. A former CIA analyst, Amaryllis Fox, gets into the economics of the drug industry. I think they make a good argument against the morality and forbearance approach to the war on drugs: there's no point stating over and over that drugs are bad and illegal to a young person born into an entirely drug-based economy in Colombia.

Also as a person with a small business, I was interested in the mechanics. It doesn't matter what you're selling, drugs, lamps, literary fiction. Distribution is not something you can take for granted.
LW: Who knew Netflix had a cache of reality tv? My favourite is The Apartment, celebrity edition! Someone online described it as 'the most awful of Netflix interior design shows.' I don't recognise any of the contestants and there's a strong vibe that casting came down to friends of friends from someone on the crew's international private school days all of whom are trying but failing to make it as an actress or rock star, but they really put the work in here. They complete every challenge properly sweaty and covered in paint. Laurence Llwelyn-Bowen is there as a judge, clearly loving the drama on set when not plugging his branded wallpaper. I came away a fan of Rima Fakih, the first Muslim Miss USA, who introduces herself with the words, 'I'm a beauty queen but I can fight. World peace!'
Books
LC: I'm so excited for my book recommendation this week! I was slow to get to this novel – here's the pitch: the story is set in US-occupied Baghdad. A man is sewing body parts together because the conflict has filled morgues with parts of people that are heartbreakingly difficult to identify. The man will join enough pieces to make one whole corpse, he wants to force the authorities to recognise its humanity and to give it a decent burial, but then the body goes missing. And a series of murders across the city happen amid rumours of a hideous creature.
Yup, our hero has created a monster that craves human flesh! Frankenstein in Baghdad by Ahmed Saadawi was first published in Arabic in 2013, and has been translated into several languages including French, Mandarin, Turkish, and English (I'm reading the translation by Jonathan Wright). It won a few awards, including the International Prize for Arabic Fiction in 2014.
The real horror of this novel is that it's grounded in reality. Saadawi had the idea for the novel in 2006. Here's an extract from an interview he gave to LitHub: "He was working as a reporter for the BBC's Arabic service, covering a war that was tearing apart his homeland and killing his people. "I saw many dead bodies," Saadawi says matter-of-factly in a thick Iraqi dialect. "Not just dead bodies—body parts. Many body parts."
A young man walked into the morgue, Saadawi recounts, demanding to see the corpse of his brother, who'd just been killed by a bomb. The man in charge at the morgue led the grieving brother to a room filled with assorted limbs, casually pointing to one body part in the corner. The man wailed, asking where the rest of his sibling's mutilated body was, to which the desensitized morgue manager said while waving his hand around the rest of the room, "take what you want, and make yourself a body."
LW: I am super into How To Do Nothing by Jenny Odell right now, which has the strapline 'Resisting the Attention Economy.' I'm reading it at a time my relationship with social media is evolving. I want more and more to protect my creative energy and headspace, but I feel the pressure to be online to promote my own forthcoming book. She makes the point that just as free to use public space is declining, so too is wholly free mental space, in a digital landscape where we produce data constantly and express ourselves through mediums which exist to serve commercial interests. Some writing on the subject of social media takes the lazy misogynist path of shaming selfie takers & women's vanity. I like Odell's perspective as an artist, and the book is essentially about the right to free time and to do with that time as we will, with a deep understanding of what is encroaching on that right.

I'm also reading the novel The Maytrees by Annie Dillard with the APSTogether crew. A tender, warm story of one family's lives among the dunes of coastal Massachusetts, told in beautiful, poetic prose.
SDG: I'm bet into Big Girl, Small Town by Michelle Gallen! It's one of my favourite new releases of 2020. It does this thing I absolutely love in literature where there's lots of description of minutiae, and of a daily grind, but written in such a way as to make it utterly compelling. There's this great sense of tension but I'm not sure where it's coming from; or perhaps it's that our understanding of what makes a great work feel dynamic and essentially interesting cannot actually be encompassed with the word 'tension'. Great voice, a rich, grimy atmosphere, and a sense of humour with it, I love it.

Lifestyle

LW: I'm new to the fact that Clipper, the lighter manufacturer, releases series of different designs. I picked one up in a newsagent that has an octopus in a baseball cap on it.

I'm going through a liquorice phase, something I've never had a particular fondness for before, but after discovering Waitrose's mascarpone ice cream with blackberry sorbet and just a hint of liquorice sauce, I want more. I bought Malaco Skippers old fashioned liquorice pipes, and am eyeing up this liquorice syrup from Sous Chef.
LC: Remember I said last time that I was going to go for a sunrise swim? Well I did and it was excellent! I went with two friends who also have babies about to turn two years old. The three of us wanted to celebrate surviving the past two years.

It coincided with the second birthday of the Portmarnock Swimrise Meet up. The water wasn't too cold, the atmosphere was warm, people were able to be socially distant while having fun together, and I managed to swim and not just dip in and out. Also the meet-up is free, and the organisers encourage donations (this month to Aware).

I immediately ordered a copy of Wild Swimming in Ireland by Maureen McCoy and Paul McCambridge (it's very good) and we have another pre-dawn swim planned for later this month. I'd also recommend Alexandra Heminsley's Leap In.
As I type this, the smell of grilled salmon is wafting in through my open window. Normally in this building you smell cigarette smoke, but rarely cooking smells. A lot of my neighbours work in tech, and they have meals at work or else they go out. Now that people are really living here, they're cooking more and it's a big improvement. Someone uses a lot of roast garlic, someone else spends hours making curry once a week, and there's a steady flow of food delivery bikes.

Anyway, it reminded me of something I saw in a Nigel Slater book, possibly Appetite. He was talking about how to grill steak (with loads of butter to finish) and addressed the question of how you get the meat smell out of your kitchen afterwards, as it tends to linger. Rather than suggest an industrial-strength cleaner, he simply pointed out that grilled meat smells are delicious and you should just enjoy them. I love that.

I would recommend this book all the time to everyone.

Anything Else?

LC: I'm driving to Galway tomorrow to meet Doireann Ní Ghríofa at Kenny's Bookshop so she can sign as many copies of A Ghost in the Throat as possible. There are a lot of pre-orders, which is a big deal to a small publisher, so we're also doing up some limited edition custom-made dust wrappers for the first 500 customers as a thank-you. I think all but 50 are spoken for already. I'm teeing up my audiobooks and podcasts for the trip, so next time we speak, I'll have my verdict on the new Stephen King, which I had started at the beginning of the lockdown but still haven't finished, and I'll be all stressed out about the US election.

One Last Thing
a Tramp Books recommendation:

handiwork is a contemplative short narrative from acclaimed writer and visual artist Sara Baume. It charts her daily process of making and writing, exploring what it is to create and to live as an artist. handiwork offers observations at once gentle and devastating, on the nature of art, grief and a life lived well. We agree with Sebastian Barry who said: "Every devotee of literature and art should read this rare, bright-lit, hard-won book, and every student of life — that is to say, everyone."

Support independent publishing by buying it here or from your bookshop of choice.