Browser 09: nutrient free but very comforting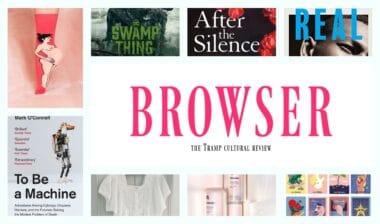 Online
Laura Waddell [LW]: I keep seeing praise for a New Yorker long read by journalist Jiayang Fan so I've had it open in a tab for a couple of days and I'm going to dive into it this weekend. It's called How My Mother and I Became Chinese Propaganda. I'm just an internet stranger, but I've been moved by her tweets over the past few months on staying connected with her elderly mother during lockdown.
On a lighter note, I stumbled upon this Google Doodle of the Mexican card game Loteria. It's super fun to play (by pressing the red arrow at the top of the page), and the illustrations, commissioned by Mexican and Mexican American artists, are gorgeous.
Lisa Coen [LC]: My online recommendations this week are two articles I loved. First up, 'Lost Libraries' by Rosa Lyster for Paris Review. Lyster is an incredibly smart, incisive writer and also really funny on Twitter. She wrote this piece about author archives and raises a lot of great points about how we value archives, and what it means to have access. This is a subject close to my heart as I got into a lot of archives when I was a grad student.
Another subject that is close to my heart is anxiety-related insomnia! In the context of postnatal depression! This article by Maria Kuznetsova for Slate is a grim read, and I wish I'd read it precisely one year and eight months ago. 'There's nothing lonelier than having your heart pound wildly while your family sleeps peacefully'.
Sarah Davis Goff [SDG]: Here is a very tough, very good read by Jesmyn Ward about a sudden death due to Coronavirus. I'm 8 months pregnant with our first kid, my husband and I have been married for a little over a year, and it just makes me want to hold on to everything so tightly, and to take nothing for granted.
Film and TV
LC: How pleased I was to find a new TV adaptation of DC's Swamp Thing on Amazon Prime recently, with a cast that includes Virginia Madsen and Will Patton. Madsen you'll have heard of, Patton you might not recognise but he's one of those character actors who turns up in a lot of things: a minor character's ex-husband or a district attorney or the likes. I particularly like his campy, overwrought work as narrator of many Stephen King books (like The Outsider, recently).

Do you two know Swamp Thing? I thought it was part of everyone's pop culture experience – like The Incredible Hulk, but wet and depressed. A few people I mentioned it to didn't grow up with this anthropomorphic sentient plant mass, and I think that's a real shame. The show was cancelled after one truncated series, but I think what's available is more than enough to be getting on with. Madsen is terrific, and there's some fun scenery-chewing from mad scientist Kevin Durand (Little John from that Robin Hood film with Russell Crowe. Very distracting teeth), but they really were unlucky with the timing of the mysterious airborne disease storyline. The CDC come to visit the spooky swamp to look into the 'green flu' that's been spreading, and it's painfully obvious it was filmed before the pandemic made us all experts on mask-wearing and hand-washing. I kept shouting at the screen 'put ON your fucking MASK, Dr Arcane, and would it kill you to tie up your beautiful hair?!'

Anyway, it's dreadful and I love it: visually very arresting – the creature make-up is miles better than the many bad face fillers, false teeth and wigs on the humans. I'm not sure if I'm recommending you watch it, but I definitely want someone to talk to about it. I'm plaguing sci-fi expert Jack Fennell to watch it for this reason. During the production of A Brilliant Void, I really enjoyed talking to Jack about Star Trek Discovery. Someone should hire him to write a treatment for an Irish science fiction series.
LW: Berwick Film & Media Arts Fest have a great offer right now where for £7.50 you get an all access pass to their entire programme, which looks great with lots of short films to stream and essays to read. I particularly like the look of the Ayo Akingbade strand. I've never attended the fest before but it was too good a proposition to pass up, so I'm going to dive into it over the weekend.

I'm also mid-way through This is Paris, the Youtube original doc in which Paris Hilton talks about her significant childhood trauma and reveals her real voice. A lot is glossed over, and tougher questions could be asked about her rise to fame and Simple Life years, but it's still quite an interesting contribution to the discussion on the downsides of personal branding, and how today's influencer culture grew out of the 2000s era of It Girls.
SDG: I finished watching Selling Sunset! My favourite bit was when my favourite character, Maya, tells her boss that she's pregnant. The (male) boss: 'I can sympathise tremendously with what you're going through.'
Maya: 'Can you? You don't even have a dog.'

There's a lot of boring everyday sexism throughout the show (can we please retire the phrase 'let the claws come out', or any kind of cat-related analogies for women bickering), and for someone who watches a fair bit of reality tv I hate manufactured conflict. The real conflicts here are interesting, between work and parenting, or when you get absolutely blind-sided by bad news. Or! When a powerful real estate merchant deciding to get a road renamed from 'Pinto' to 'Hummingbird' for selling purposes. That is no good and I wish there was more commentary on that.
Books
SDG: I've just started reading the new Suzanne Collins book – I maintain that the Hunger Games trilogy was genuinely excellent writing (and spawned some brilliant fanfic), and I was curious about getting back into the Panem world … but I'm not super interested in the story of President Snow, and to me it's reading as quite clunky so far, it's been a disappointment.

I ordered my copy of Deirdre Sullivan's outstanding new book Savage Her Reply from Kennys.ie which I SUPER recommend because you get a cool free gift and I am a sucker for those. The reviews coming in are outstanding, I hope it sells absolute buckets.

I was so delighted to pick up the new Louise O'Neill, After the Silence – as always Louise is so insightful on power imbalances, and nobody can write an ending like she does, she can make me feel such a particular type of nausea, it's a creepy superpower!

LC: In book updates, I have a lot to read and I never get to read them, but I finally got to read Stephen King's If It Bleeds. I listened to the audiobook on the way to Galway for Doireann's Cúirt event with Kenny's. It's a collection of long short stories, or short novellas? I really enjoyed it. There's a story about maybe making a Faustian pact with a talking rat during a storm. Or maybe our hero is hallucinating because of the strong cold medicine he took.

I mentioned The Outsider, well this new collection has a follow-up story (also read by Will Patton) that revisits Holly Gibney, who is fast becoming my favourite recurring Stephen King character. Great fun.
LW: The only book I'd read on the Booker shortlist when announced was This Mournable Body by Tsitsi Dangarembga, a story of a young woman struggling to make it in Zimbabwe which I really enjoyed, but I'm tempted by a few others on the list. Sarah, I remember you talking about The Shadow King by Maaza Mengiste. I want to highlight that Tsitsi Dangarembga has had some week – shortlisted for the Booker on Tuesday, and as I write this on Friday, she's in court for protesting against government corruption. Here is a statement about it from her publisher Faber.

I've also just started Real Life by Brandon Taylor, a campus novel with a gay, black protagonist called Wallace who is studying biochemistry. It's set in the midwest but reminds me a tiny bit of A Little Life, in that there's a group of smart, educated friends figuring themselves (and each other) out, from which Wallace is a little distant when the story begins, but I'm still very early on.
Lifestyle

LW: I love a good pair of boots and I've just ordered these ones from Dune. I am ready for autumn. But at the same time, is summer really over? We're in that in-between phase. So I'm still looking at nap dresses aka cotton nightdresses, like this one. There is seriously nothing more comfortable. Maybe I'll wear them together.

I've also finally given into the hype and ordered Glossier's Futuredew, which may make me look healthy and dewy, or may look like expensive grease. I will report back.

I'm very tempted to buy one of these face masks from offbeat Italian designers Seletti.

Food-wise, I'm going through a real Supernoodles phase. I throw away the flavour packet and just add soy sauce and a dab of sesame oil. The perfect snack/small meal, by which I mean nutrient-free but very comforting.
LC: I am living off takeaways and sandwiches, and then once a fortnight or so I get motivated by my foodie friend Natasha to make an effort. This recipe for Chicken Gyros involved a bit of construction with an onion and skewer, and it was well worth it.

If you don't have a skewer, a chopstick will work but you may have to whittle the end a bit, and that should make you feel even more like a smug Thoreau type.

My cosmetic recommendation this week is Kelo-Cote scar gel. It's expensive for such a small tube, but I've been seeing good results on a couple of scars that have been slow to heal.

I was going to recommend everyone get this cute little mini air conditioner I found online, but the fucking thing broke after just two weeks. I'm dying in this humidity, but when I open the window there's a man with a jackhammer ripping up Sheriff Street. Hopefully I'll either fix my cooler, or find an alternative, or the autumn will come, or the jackhammer will break down before I do.

SDG: Can I take a poll? I should not buy this coat, right? It's quite expensive for being so ugly but I think I love it?
In the meantime can everyone appreciate these socks Laura bought me, thank you.

LC: Buy the coat! If it keeps the rain off, it's an ideal purchase. Rain season is coming.

SDG: Every time I look at it it gets uglier but I want it the same amount.

Anything Else?

LC: I miss theatre. It's great to see the innovative ways theatre companies are still bringing stories to audiences under pandemic restrictions. For instance Dead Centre has adapted To Be A Machine by Mark O'Connell for the Dublin Theatre Festival, announcing: 'this event attempts to re-imagine theatre without the hindrance of the body.

Be the best audience member you can be by uploading yourself into the crowd for this exploration of technology, the race to defeat death, and the limits of live performance. Featuring Jack Gleeson trying to be or not to be a machine.

It sounds like a perfect meeting of story and form! It will be streamed live from Project Arts Centre on 1-3 & 6-10 Oct, at 7.30pm.
SDG: It's been a struggle to find a parenting podcast I like as much as Mother of Pod (I've listened to all 71 episodes basically on repeat since finding out I was pregnant seven months ago). Nice White Parents, about white people trying pretty cack-handedly to encourage integration in New York public schools, absolutely does not scratch that itch for me, but it is excellent.

I've got a special knack for 'discovering' shows that are literally amongst the most popular programmes in the country, but I've started listening at last to How Did This Get Made with Paul Scheer, June Diane Raphael and Jason Mantzoukas (the latter we all know from The Good Place, June we know from Grace and Frankie (she plays Brianna), and she's married to Paul Scheer who in fairness does also have some tv credits). If you're going in cold and like me enjoy Con Air (which also showed up a little on this week's The Creep Dive? Love that), that's a good one to start out on.
One Last Thing
a Tramp Books recommendation:

A Ghost in the Throat is a true original, the stunning prose debut by Doireann Ní Ghríofa. In the 1700s, an Irish noblewoman, on discovering her husband has been murdered, drinks handfuls of his blood and composes an extraordinary poem that reaches across the centuries to another poet. In the present day, a young mother narrowly avoids tragedy in her own life. On encountering the poem, she becomes obsessed with finding out the rest of the story. This is devastating and timeless tale about finding your voice by freeing another's. We agree with the Sunday Times who declared it 'ONE OF THE BEST BOOKS OF THIS DREADFUL YEAR'.

Support independent publishing by buying it here or from your bookshop of choice.