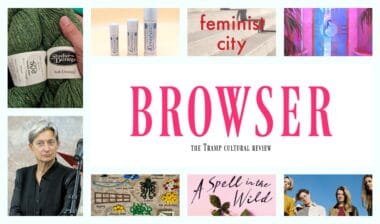 Online
Laura Waddell [LW]: I really loved Sean Wai Keung on Munchy Boxes and Poon Choi 盆菜 in a recent article for food writing site Vittles, tracing the parallels between Glasgow and Hong Kong cuisine. "In many ways, the munchy box is an apt symbol for the city. Through its layering of contents, which can include any mixture of pizzas, kebab meats, garlic breads, pakoras, naans, chow mein, samosas, fried chicken and more, the munchy box simultaneously encourages the hungry consumer to engage with Glasgow's diversity of cultures and also works against the idea of 'authenticity' within those same cultures."

Also on food, here is a soothing video of a "Maison de beurre", butter being made by hand in Brittany.
I'm not much of a gamer, but this is a fascinating article by Alexis Ong on Holovista, an immersive, vaporwavy social media simulator with the "the kind of aesthetic polish that you'd normally find in a high-end fashion spread." Here's one of the developers, Nadya Lev, discussing escapist storytelling: "When I grew up in the Soviet Union, my parents… had this like J.R.R. Tolkien Middle Earth LARP Club," she recalled. "There wasn't any guide on how to LARP because they were behind the Iron Curtain. Everything was very homebrewed." Within this bootleg microcosm of Middle-earth, amid a broadly homophobic culture, were two characters in a queer relationship. "Everyone was like, that's fine, cool, no problem," she said. "It was a very beautiful romance with a lot of real tender feelings behind it that never would have had community support in Russia otherwise… but within the magic circle of the game, things became OK that aren't OK in real life."

Finally, here's a cool quiz on how many European cities you can name.
Sarah Davis Goff [SDG]: Mona Eltahawy's newsletter Feminist Giant is helping to keep me informed and furious. It's free, informed by global feminist movements, horrifying but inspiring at once, I really recommend a sign-up!
Lisa Coen [LC]: I'm late with this recommendation but I really loved Judith Butler in the New Statesman recently, absolutely destroying transphobes with cool intelligence.
Here's an interesting longread from Bloomberg about the cruise ship that was a vector for Covid. It's an interesting read but incredibly depressing. Maybe one to bookmark for much, much later.
Funny story: back in February 1997, a cargo en route to New York was hit by a freak wave off the coast of Cornwall, spilling 62 containers into the sea. One of those was filled with almost 5 million pieces of Lego. Social media accounts like Lego Lost at Sea document this, and other things that continue to wash up on UK beaches in the years since.

Film and TV
LW: You guys were right about Succession. I watched both series last week and loved it. I feel patriotic every time Brian Cox says 'fuck off' in his glorious Scottish accent. It's just a really sharp, gorgeously put together show about horrible people. What more could you want? The cast are great, and I wish I was friends IRL with the Culkin brothers.

To fill the void of finishing it, I've started Gilmore Girls. It isn't exactly what I expected. I expected more girls, something along the lines of Little Women, maybe. I'm not sure if I'll stick with it yet, but I appreciate it's intense autumnal vibe, all the knitwear, and the feeling of taking a valium that it induces.
Books
SDG: I've got a little project on where I'm trying to catch up on shows that I thought were good but I stopped watching for no particular reason I can recall. So I started watching Manhunt again! I like to think it's in the same cinematic universe as MindHunter.

It's hard not to be fascinated with the Unibomber. I'm a sucker for cabins in the woods, and the brutality of the bombs is depicted so well, they're very shocking, particularly as they're so at odds with the honestly pretty workmanlike writing and dialogue.

Anyway the show is bad, I remember now why I stopped watching it. The Unibomber was dumb and boring and an asshole. And Keisha Castle-Hughes is relegated to playing ear-mop for the boring asshole protagonist. No thank you.
SDG: I seem to be reading in proportion to how badly the pandemic is going, so once again, really struggling. I've had the Tattoist of Auschwitz on my shelves for ages and read that over the weekend; it's a true story extremely well rendered by Heather Morris; respectful, smart and really tough going.
LW: I've read a lot since the last Browser, because hibernation season is in the air and all I want to do is curl up and zone out. Most recently, I've been dipping into A Spell in the Wild by Alice Tarbuck, which is a witch's year broken down month by month, full of foraging, feminism, magic, and making meaning. I wrote a column about it here.

I'm also midway through Leslie Kern's Feminist City, which is a really fascinating discussion of how cities and other planned environments weren't designed with contemporary women in mind. The first chapter, which is about motherhood, and trying to navigate transport with a stroller, breaks down the ways in which suburbs developed in the post-war era were designed for the lifestyle and travel patterns of commuting men, heading into the city and back, and are otherwise difficult for anyone with a small kid getting out and about locally and making journeys that aren't so linear.

Listening

SDG: I've been listening to a lot of music which honestly isn't really like me, I never know what's going on and generally rely on friend's Spotify playlists. BUT there's three acts I'm bet into right now:

I first met Pillow Queens on the soundtrack for David Freyne's brilliant movie 'Dating Amber', and they've just released their debut Holy Show. It's on Spotify and it is glorious. Tegan and Sara are fans, so. (They're on the cover of pretty much every magazine in Ireland now so this hardly counts as a discovery, true to form!)

Also not a discovery is Nathy Peluso, an Argentinian singer/songwriter/rapper. She was a YouTube kid is what I understand, but she released her first studio album earlier this year and it's awesome: I particularly recommend 'Business Woman' which will get you going in the morning or your money back.

Last one! An Irish band called Hvmmingbyrd, I'm OBSESSED. Gorgeous soft vocals, synthy, super catchy and imaginative. 'If Love Was Enough' I think got quite a lot of radio play when it came out but 'Papillon' is my absolute fave, it's like a bang up to date Sylvan Esso meets the best possible 80s, but Irish?

I have a butt-load of work to do for my last couple of weeks in the office (plus a novel draft to finish! lollll me): new tunes are really helping me focus.
LC: Everyone has to check out this recent episode of the Motherfoclóir podcast.

I love this podcast team: they're the right mix of knowledgeable, charming, and sweary. In this episode they talk about Caoineadh Airt Uí Laoghaire, the epic poem that is the centre of Doireann Nií Ghríofa's bestselling A Ghost in the Throat. Tune in for the considered and sophisticated analysis of the poem and its role in the Irish canon, but stay for the very compelling theory Darach floats towards the end, about the possibility of a second shooter in the killing of Abraham Morris. His co-hosts give him a hard time over it but I am obsessed with the dramatic possibility of it, the bloody satisfying revenge fantasy of it.
This is all I'm managing right now: five minutes of knitting, the news, the occasional podcast. My next book recommendation will be exclusively picture books.
Lifestyle

LC: I am absolutely delighted to report that my knitting skills are growing, along with my collection of wonky hats. I recently bought the Zero To Knit course from a Dublin yarn shop. You get two skeins of very beautiful Donegal wool, a set of circular needles, some markers, a cute little measuring tape and access to an online course from Stolen Stitches. The course teaches you the basics to take you from knitting a simple little pouch, to a cute hat and on to an adorable rustic baby cardigan. It's a revelation to me. Were it not for the lockdown, I'd be going along to knitting classes in person and getting frustrated with the learning curve in the way I always do. Having to work off a set of videos is, it turns out, an ideal way for me to learn! I can pause, rewind as often as I like, and more importantly, I can actually attend every session.

Since becoming a mother I find it really hard to commit to anything that's not work or parenting. This way, if he takes a nap, I can do some knitting for the time available to me, and I've knit two hats and a really cute cardigan already. I can't tell you how satisfying this is. I resented knitting in school so much, and I always felt bad I couldn't manage more than a scratchy scarf.

It's a very calming and satisfying hobby, and I love having something to show for it. I'm also thinking about a post by the author and journalist Alexandra Hemingsley, who finished a beautiful jumper for her little boy, and captioned it 'Every stitch is a tweet I didn't read.'

SDG: Well, let me tell you why I hate myself this fortnight. I just spent an absolute fortune, in a pandemic, in a tricky financial year, on a silk fitted sheet. My skin is insanely sensitive right now and even my perfectly nice cotton sheets are getting crinkled and giving me like, welts across my (huge, by the way) stomach and sides. There must be a cheaper way to deal with the issue but here I am, scratching myself and waiting for this sheet to arrive.
LW: There's a new online stationery shop called Libraries and Archives, and I treated myself to a couple of gorgeous notebooks and a glue stick scented like marzipan. When it arrived I was blown away by the gorgeous packaging. It's possibly the prettiest parcel I've ever received from a web shop. It felt like my birthday. Their social media presence is very enjoyable too.
One Last Thing
a Tramp Books recommendation:

A Ghost in the Throat is a true original, the stunning prose debut by Doireann Ní Ghríofa. In the 1700s, an Irish noblewoman, on discovering her husband has been murdered, drinks handfuls of his blood and composes an extraordinary poem that reaches across the centuries to another poet. In the present day, a young mother narrowly avoids tragedy in her own life. On encountering the poem, she becomes obsessed with finding out the rest of the story. This is devastating and timeless tale about finding your voice by freeing another's. We agree with the Sunday Times who declared it 'ONE OF THE BEST BOOKS OF THIS DREADFUL YEAR'.

Support independent publishing by buying it here or from your bookshop of choice.