Mike McCormack wins Dublin Literary Award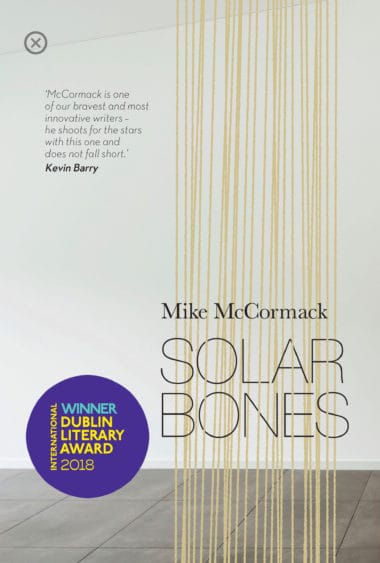 Mike McCormack's Solar Bones Wins the Dublin International Literary Award
Tramp Press is delighted to announce that Mike McCormack's Solar Bones has won the 2018 Dublin International Literary Award (previously called the IMPAC Award).
'We are thrilled to see Mike McCormack's extraordinary novel receive this important award. Solar Bones is an incredible book, and Mike is a great writer, teacher, and GAA fanatic, so it is fitting he should be celebrated with an award chosen by readers,' said Lisa Coen, publisher at Tramp Press.
'Mike McCormack is one of the world's greatest living writers, and Solar Bones is a masterpiece. This recognition for his work is so wonderful and we could not be more delighted for him,' added Sarah Davis-Goff (Tramp Press).
Solar Bones has also won the Goldsmiths Prize, the Novel of the Year Award and Book of the Year awards at the Bord Gáis Energy Irish Book Awards, and was longlisted for the Man Booker Prize.
Tramp Press is the first Irish publisher to win the award. After its initial publication and success in 2016 they partnered with Canongate in the UK to ensure it would be submitted for the Man Booker Prize; Solar Bones was published in the US with Soho Press. Rights have also sold, via Mike's agent Marianne Gunn O'Connor, to Denmark, France, Germany, Italy, Spain, Greece and Holland. Marianne is the first Irish agent with an author to win the award.
Click here to buy a copy: https://www.tramppress.com/product/solar-bones/
ABOUT SOLAR BONES
Funny and strange, McCormack's ambitious and other-worldly novel plays with form and defies convention. A beautiful and haunting elegy, this story of order and chaos, love and loss captures how minor decisions ripple into waves and test our integrity in small ways every day. This profound work is by one of our most important contemporary novelists.
'We're over the moon to be publishing Mike's first novel in a decade,' said Lisa Coen said at the time of publication. 'This kind of work is exactly why we wanted to start our own publishing company. It's brave, challenging, and defies convention, but more than anything it's an exceptionally beautiful work of art.'
MIKE MCCORMACK is an award-winning novelist and short story writer from Mayo. His previous work includes Notes from a Coma (2005), which was shortlisted for the Irish Book of the Year Award, and Forensic Songs (2012). In 1996 he was awarded the Rooney Prize for Irish Literature and in 2007 he was awarded a Civitella Ranieri Fellowship. In 2018 he was elected to the Aosdána.
PREVIOUS WORK
Crowe's Requiem (1998) – McCormack's debut novel
Getting it in the Head (1995) – McCormack's debut collection of short stories, which won the Rooney Prize for Irish Literature in 1996, and from which 'The Terms' was adapted into an award-winning short film directed by Johnny O'Reilly
Notes from a Coma (2005) – his second novel, described by the Irish Times as 'the greatest Irish novel of the decade just passed,' was also shortlisted for the Irish Book of the Year Award
Forensic Songs (2012) – A second collection of short stories
PRAISE
'Excellence is always rare and often unexpected: we don't necessarily expect masterpieces even from the great. Mike McCormack's Solar Bones is exceptional indeed: an extraordinary novel by a writer not yet famous but surely destined to be acclaimed by anyone who believes that the novel is not dead and that novelists are not merely lit-fest fodder for the metropolitan middle classes.' – The Guardian
'We could quote from Solar Bones for pages and pages; the ending left us dazed and it was a struggle not to immediately reread it. An immensely powerful book that blends the sublime and the everyday in a way that, if it doesn't make you rethink the whole engineering profession, will definitely make you want to cheer McCormack onto this year's prize lists. One of our top reads of the year so far.' – BookMunch
'… hauntingly sad, but also frequently very funny – Proust reconfigured by Flann O'Brien.' – Literary Review
'One of the most original and important voices in contemporary Irish fiction' The Irish Times
For Tramp Press Media Enquiries:
Tramp Press gratefully acknowledges the financial assistance of the Arts Council.