'Twas the last shipping date before Christmas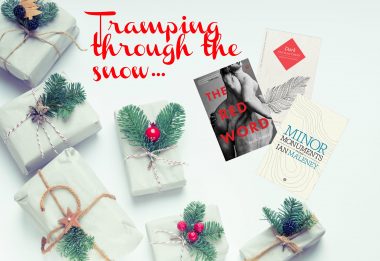 Christmas shopping? We've got that thing you're looking for.
LIMITED TIME OFFER: order any book from our website on the 17th-19th December and we'll add a FREE GIFT!

Order by the 19th of December to receive before Christmas.
All orders placed before 3PM will be posted out that day.
Sorted.
Minor Monuments by Ian Maleney
Set around a small family farm on the edge of a bog, a few miles from the river Shannon, Minor Monuments is a collection of essays unfolding from the landscape of the Irish midlands. Taking in the physical and philosophical power of sound and music, and the effects of Alzheimer's disease on a family, Ian Maleney questions the nature of home, memory, and the complex nature of belonging.
A thought-provoking and quietly devastating meditation on family and loss. With echoes of Tim Robinson, Tara Westover and John Berger, Minor Monuments is a beautiful and unique literary experience.
Chosen by Colm Toibin as one of his books of the year.
Shortlisted for Irish Book Awards Non-Fiction Book of the Year
'Minor Monuments is a beautiful, touching and extraordinarily intelligent book. I loved every page.' – Sally Rooney
'Beautifully poised between the vivid recollection of experience and subtle reflections on the nature of memory itself.' – Fintan o'Toole
'This is an extremely fine debut.' – Kevin Barry
'This is the kind of book that changes its reader.' – Lisa McInerney
'What an exquisite and carefully wrought book' – Max Porter
The battle of the sexes goes to college in this smart, thrilling debut by university English professor Sarah Henstra. University student Karen is swept up in back-to-school revelry and when she wakes up after a frat party lying on the lawn of Raghurst, a house of radical feminists, she gets a crash course in anti-frat activism on campus. GBC ('Gang Bang Central') is especially notorious, she learns, with several names featured on a list of date rapists compiled by female students.
Despite continuing to party at GBC and even dating one of the brothers, Karen is seduced by the intellectual stimulation and indomitable spirit of the Raghurst women. As Karen finds herself caught between two increasingly polarized camps, her feminist housemates believe they have hit on the perfect way to expose and bring down the fraternity as a symbol of rape culture… but the war between the houses will exact a terrible price.
The Red Word offers a lyrical yet eyes-wide-open account of the epic clash between fraternities' time-honoured 'right to party' and young women's demands for sexual safety and respect. With strains of The Marriage Plot and reminiscent of the work of Zadie Smith, Donna Tartt and Tom Wolfe, The Red Word arrives on the wings of furies.
"The Red Word echoes Donna Tartt's The Secret History — another Greek myth-soaked, Ivy League campus-set novel in which a tutor inspires cult-like devotion in their students — but there is nothing derivative about Henstra's tale. The Red Word is a beautifully written, gripping take on the battle between the sexes." Financial Times
"Compulsive & perfectly formed." New Statesman / "A timely treatise." Irish Times / 'I haven't been able to stop thinking about The Red Word since I devoured it in one sitting.' – Louise O'Neill / 'Henstra draws on Greek mythology to comment on contemporary issues" New Yorker / 'Will get you fuming, laughing, cheering, and most of all, thinking.' Cosmopolitan / "Timely and incisive."- Harper's Bazaar
Dark Enchantment by Dorothy Macardle
BUNDLE OFFER: three classic Macardle books

Exhausted after years of unhappiness, 20-year-old Juliet Cunningham is delighted to find herself living in a village in the French Alps. Recovering in the fresh air of the mountains, she becomes involved in local life. As Juliet makes new friends and meets fellow wanderers – such as the handsome young Michael – she hears of stories of witchery, of fortunes told, of spells, and murder … but are the rumours of the witch true, and can Juliet escape in time?
First published in 1953, Dark Enchantment evokes a magical pre-war France, and was written after Macardle's other successful and influential novels The Uninvited and The Unforeseen.
Praise for Dorothy Macardle:
'A vanished enchantment … perfect escape literature' – The New York Times / 'Casts its own spell' – Kirkus Reviews / 'One of the most entertaining Irish novels I've read all year.' – The Irish Times
'Terrific. A gripping ghost story that warns precisely about the silencing act of history and the dangerous process of transforming women into symbols.' – Dublin Inquirer
Browse our shop for more.