Browser 12: better than a mett igel!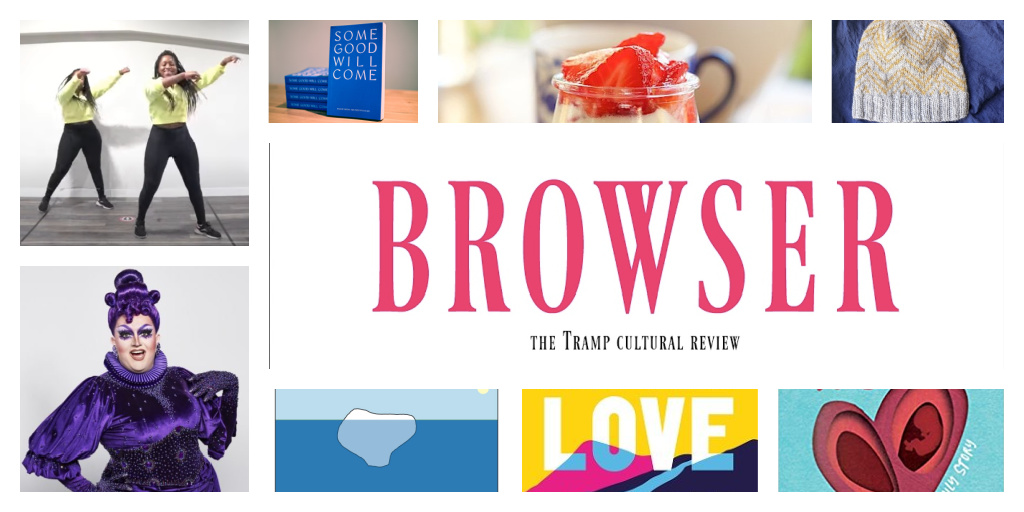 What we're browsing, watching, reading, eating

Lisa Coen [LC]: I'm going to give you a little insight into my life as a run-up to my next recommendations. My toddler wakes around 5:30am, and we go play with Lego and watch cartoons until it's time for work. After work, he helps me to make dinner (so fun! So incredibly stressful!). Last night some neighbours were playing really loud techno, so we had a dance party and it was just like being in a nightclub in Galway in the '90s. This is hands-down the best cardio, but if your neighbours aren't up for DJ duty, I also strongly recommend this dance cardio video on Youtube by and8 Fitness.
I got the recommendation from a tiktok that pointed out it's actually dance and 'not just burpees to music'.
The dance party helped as my son doesn't fall asleep before 9:30pm. Lately he's been wide-awake until almost 11. If he sleeps before 9, I get to do some knitting and reading. He'll usually wake a couple of times in the night. Sometimes he goes straight back to sleep, sometimes he's up for an hour. I can only assume he's this full of energy because he's absorbing all of my life-force through his powerful hugs.
I divide up projects between Things I Can Do at 5am when he's focused on Lego, say, and Things I Can Do in the Event he Goes Back to Sleep.
I've been reading PDFs on my phone – this is only good for documents that don't require mark-up. I haven't figured out that part yet. I can answer some emails – but I've come to realise how often I need to attach things. This is an ongoing problem, and I'll keep you posted.
I used to have a very elegant To-Do list system on paper that involved ticking boxes, and it's served me very well for 15 years, but I've reluctantly had to upgrade to a project management app on my phone. I have Asana for desktop, and only recently downloaded the app too. I've been dumping things in there, and I'm sad to say, it's much more efficient than my paper system. It's not like I have a desk to spread out all the paperwork anymore, now that we're working from home, so it's important I adapt. Learning new ways to work after I spent all this time digging myself into a comfortable rut is a nuisance.
When we don't have childcare, my husband and I have to alternate between working and parenting. So recently, inspired by Doireann Ní Ghríofa, I drove to a local car park and propped my laptop against the steering wheel and worked there for a few hours at a time. It's worked surprisingly well! My sister sent me a link to a car laptop tray that you fix to the steering wheel. I ordered it in case I have to work in the car again (which is fairly likely).
A lesson I am learning very slowly is to stop treating the pandemic like a temporary thing, and to accept that this is the way things are for now, and therefore to try make them as comfortable as possible. I also bought a hot water bottle.

Laura Waddell [LW]: Tavi Gevinson, who edited Rookie when she was a teenager which catapulted her to a hip indie mag culture kind of fame, has written a really nuanced, smart article jumping off from Britney Spears and the lack of control she had over her image as a sexualised teenager, moving on to Tavi's own experiences of publishing photographs of teenage girls, and finally looking back on her relationship with an older man when she was just eighteen. She writes, "I myself struggled to see the power dynamics at play because I held fast to the assertion that teen girls are as intelligent & capable as anyone else. I had built a career on it."

My internet timewaster tip this edition of Browser is Iceberger. It couldn't be simpler: draw an iceberg and see how it will float.

LC: Be The Bridge is a good resource for Black History Month – it's a compilation of articles to fill in the gaps in typical history lessons.


LW: I might be the last person in the land to have started watching Ru Paul's Drag Race, but the current UK series has hooked me. It's the costuming element I love most. Bimini Bon Boulash's amoeba outfit was just beautiful. I am, however, rooting for fellow Glaswegian Lawrence Chaney, whose website gives me retro 'live at the Pavillion' vibes in the very best way. I love how every queer person I know looks forward to Thursday nights.

Also in reality tv, I've been watching the first two series of an MTV show called 'Are You The One?' which has just appeared on Netflix. The premise is that ten guys and ten girls have been assessed by matchmakers – the methodology is never clearly defined – and must swap partners until they find their 'perfect match'. If everyone pairs off correctly, they win one million dollars. It's in the mould of Love Island, but something about it feels like old school, millenium era reality tv – probably the concerning levels of drama and lack of ethics. It feels vaguely irresponsible to even recommend it.


LC: I've started listening to the audiobook of Somebody to Love by Alexandra Heminsley. I love her writing and think she's a particularly good reader of her work, which isn't always the case for authors. I'm only part of the way in, but the way she writes about her experiences, and the way they made her feel estranged from her body, is really well done. She's thoughtful and articulate and somehow always makes me feel motivated to go for a run or a swim.
She is particularly adept at narrating her experience of sexual assualt on a train when she was heavily pregnant, and the dismayingly familiar weighing-up of whether it's worth it to complain, or if the backlash will be even worse. I am full of admiration for her. I'm not even halfway through yet but I think it's excellent.
I have just pre-ordered Some Good Will Come: Fallow Media: The First Five Years. It's an anthology of selected work from the first five years of Fallow Media's 'online publishing experiment', as editor and Tramp author Ian Maleney describes it. The website has published some really exciting work over the years: excellent writing with innovative interactive features that enrich the experience – and to see Fallow move into the print space now is great news for people who would like some physical pages to dog-ear. The collection includes fiction, poetry, essays, and photographs by contributor's: Kevin Breathnach, Shane Culloty, Adrian Duncan, Doireann Ní Ghríofa, Anne Hayden, David Hayden, Tim MacGabhann, Ian Maleney, Rebecca O'Dwyer, Gareth Smyth, Cathy Sweeney, Suzanne Walsh.
LW: I've been thinking about the dear departed Alasdair Gray recently, because today is #GrayDay, a celebration of the anniversary of the publication of Lanark, and people are sharing wonderful snippets of books and art on social media using that hashtag. I wrote about my strong memories of reading Lanark for the first time in my column this week.

I recently enjoyed Love is an Ex-Country by Randa Jarrar, "Told as a road trip across the USA, this is Randa's bold and frank personal story: a Palestinian daughter shamed about her weight, her background, and her decision to become a teenage mother as she rebels…". In particular, what's valuable is what the book has to say not just about abuse but about healing.

And here is something strong and good from Orkney poet Harry Josephine Giles, on culture wars and 'reasonable concerns', writing through the bullshit as ever.


LW: I'm going through a baths phase. A while ago I read a persuasive Strategist article about a German brand of bath salts called Kneipp, and I'm working my way through the range. The labels are in German and I can't read them, but how wrong can it go? Last week, the light in the bathroom was broken, and I floated in the bath with a couple of candles lit and this foresty, fresh bath scent all around. It felt like the first time I had relaxed, properly, in a while. Sometimes you have a bath that hits just right.

LC: I mentioned to our typesetter, Marsha, that I was really enjoying cooking with my toddler, and she told me about this French recipe for Gâteaux de mamie, or Granny Cake. You know how you'd traditionally get yoghurt in those lovely little glass jars in France? Apparently you can follow a recipe in which the jar is used to measure everything else that goes in. She told me it's the first thing a lot of French kids learn to make by themselves and not at all bad compared to 'the sugary breakfasts you need to keep yourself upright'.
Here's a recipe in English for lemon and yoghurt cake.
I can vouch that it was easy to make and really tasty. We also make a chocolate version. I loved helping my parents baking and cooking when I was small, and it's exciting to get to do this now.
Speaking of food. I saw a tweet about 'Big Mac Salad' that you liked. I sent it to my sister in Germany who immediately shot back 'better than a mett igel!', meaning this:
'Igel' is a hedgehog, 'mett' is raw pork mince people eat on bread. I'm ok with eating raw meat, and I enjoy most things you can spread on bread, but do the hedgehogs have to look so frightening? And why do the onion spines look like human fingernails? So troubling.

LW: Jesus Christ.
LW: I've been doing a cross stitch of a hermit crab, made by the small independent business Bothy Threads. Yes, it does represent my emotional state at this time.

LC: Since my evenings are busier this week, I've had less time to knit. Most recently I wanted to try colourwork (in this case, working with two yarns), now that I've made a few things and become a bit confident. I also wanted to make something for Sara Baume, inspired by handiwork. I picked out a colourwork hat pattern in colours that are suggestive of the northern wheatear. 
It took about a month, which is pretty long. The pattern was difficult because it changes with every row, so you can't zone out while you knit, but I had to hunch over the pattern and mutter numbers to myself. At least it's inspired me to try another colourwork pattern, maybe something with a more forgiving repetitive design.
Did you read that mad post about Carhartt beanies? It's hilarious. I should have bought one of those and posted that to Sara instead.
Next up: a very simple wrap. I have heard tell of people who have figured out how to read while they knit, so next time around, I'll report on how that went!
One Last Thing!
With new books from Mona Eltahawy, Sophie White and Niall Bourke, we're looking forward to spring.

Check them out here.