Browser 13: Give That Horse A Sugarcube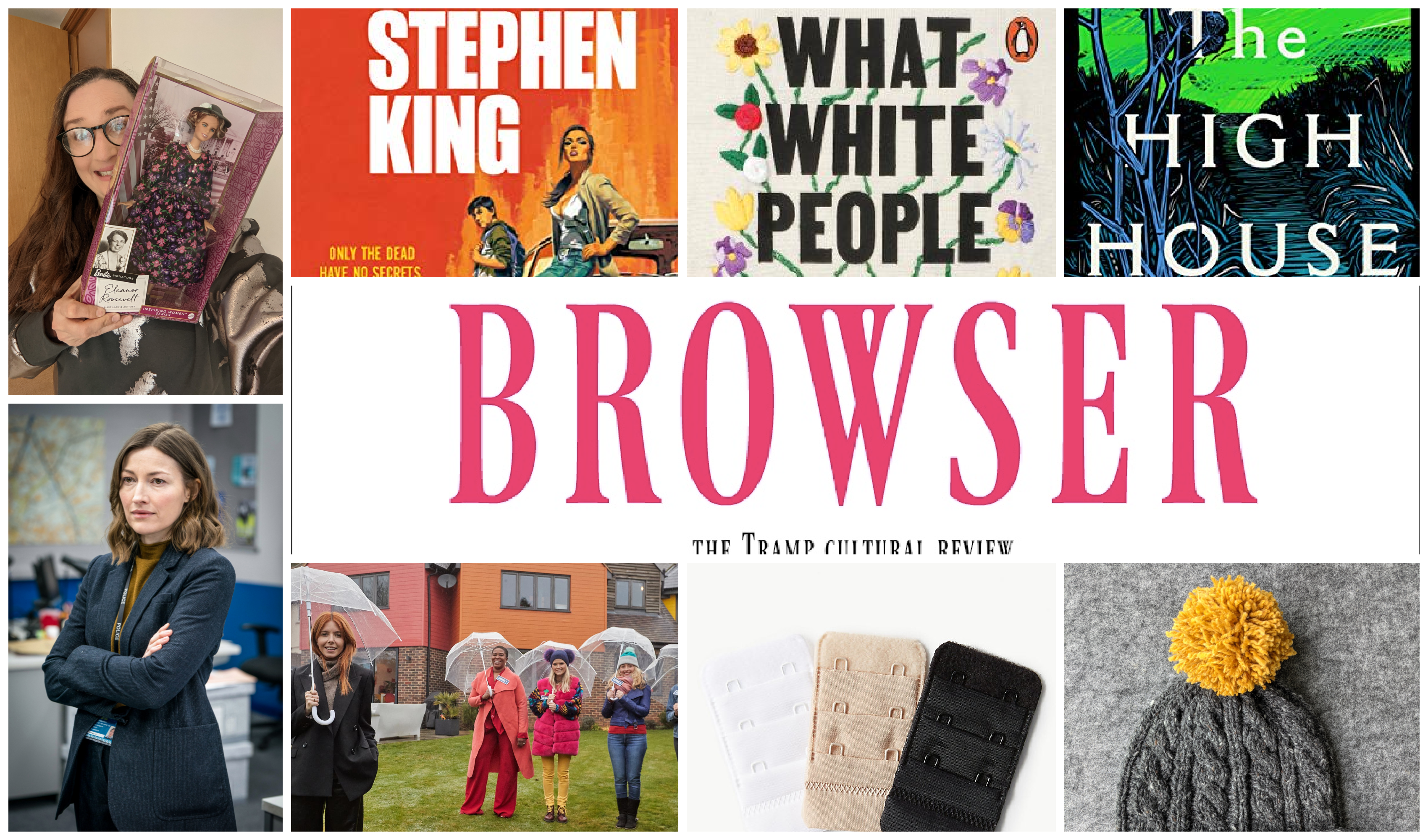 What we're browsing, watching, reading, eating



Lisa Coen [LC]: Hello! I am going to preface my first recommendation this week by saying that the only way I get any quiet time is to run the legs off my toddler at the weekend so he collapses with exhaustion early enough that I can have a glass of wine and watch TV. I'm usually exhausted and dehydrated too by this point, and should start with some electrolytes, but it's a pandemic.
I saw that Mattel has brought out an Eleanor Roosevelt themed Barbie doll for International Women's Day last month, to celebrate her humanitarian work. Yes, I'd had a couple of drinks, so I bought it, and I love it. I have a bit of a fascination with American presidents and their wives. Did you know, for instance, Woodrow Wilson's wife Edith basically ran the country for him after he'd suffered a stroke? Or that Eleanor Roosevelt's maiden name was… ehhhh Roosevelt? (I got stung in a pub quiz over that once. At least in lockdown there are no pub quizzes.)

Roosevelt was a columnist and UN diplomat, she often scheduled all-women press conferences at the White House, but the thing I really like about her is her approach to food.

I always crack up at historical accounts of her White House menus. I mean talk about weaponising the drudgery of that role. Laura Shapiro writes about her in her very entertaining What She Ate: Six Remarkable Women and the Food that Tells Their Stories:
Martha Gelhorn, accompanying Ernest Hemingway to stay with the Roosevelts at the White House in 1937, stopped to eat three sandwiches. That the food at the White House was revolting was known by all Washington, she explained. Hemingway remembered 'rainwater soup followed by rubber squab.' It was, he told his mother I law, the worst meal he had ever eaten. Actually, by the then White House standards, this menu sounds bearable. The problem was that FDR's love of rich food clashed with his First Lady's politics – rightfully sensitive during the Depression – creating a culinary Cold War at home. Fatally, she also delegated responsibility for the White House kitchen to a trusted former servant.
I think modelling restraint and parsimony during a horrific economic crisis was indeed a smart political move for Eleanor, but I can't help but think that wasn't the only thing she was up to when she had staff serve her cheating gourmand husband mashed eggs with vinegar.



Laura Waddell [LW]: Here's a joyful article on The Cut about photography book Chinatown Pretty: Fashion and Wisdom from Chinatown's Most Stylish Seniors by photographer Andria Lo and writer Valerie Luu.

Sally Davies' photos of New Yorkers apartments jam-packed with idiosyncratic style are a treasure trove of short story prompts. I love the well lived in, eccentric, eclectic decor on show.

An incredible photo story by Jeremy Lempin/Divergence about a French horse named Doctor Peyo who comforts patients at Calais Hospital, and seems to instinctively know when someone is ill. Give that horse a sugarcube, stat.

And worth a read on the nature of obsession and conspiracy, Albert Samaha writing for Buzzfeed: "My Mom Believes in QAnon. I've been trying to get her out."

Lisa Coen [LC]: Oh look, a metaphor for my mental health: trashloop.com


LW: There's a completely polarising new BBC show called This is My House. The premise is this: four people try to convince a panel they're the real resident. Only one is telling the truth. The first episode had Ferns 1 to Fern 4 laying claim to their favourite comfy chair and nightly routine while Stacey Dooley oversees proceedings. It's Through the Key Hole meets Would I Lie To You? and very quickly becomes surreal – totally silly trash tv with no victims. Great for those who love judging people AND the houses they live in.

LC: Are you watching Line of Duty? I'm so happy the new series is here. I love Kelly Macdonald as Jo Davidson. Also the suits they dress her character in make me almost want to change out of my joggers again into something more structured.

I really don't have any bright ideas who H will turn out to be, but I enjoy these fan theories.

Do you watch it? Do you have any thoughts about who it could be? I worry about Ted Hastings and his lovely hair. I am especially thrilled that Anna Maxwell Martin is back as Detective Chief Superintendent Patricia Carmichael, bringing her Quietly Terrifying Voice. I would love to see Pat and Ted team up to take down H. Maybe she's H? Maybe Ted is? I just had a conversation with a friend who said she hates how much the show lingers over admin and procedure, but for me, those are the strengths.



LC: Top recommendations from me this week include Emma Dabiri's What White People Can Do Next. Here she is in Vogue talking about it.

The new Stephen King novel, Later, is described as 'crime novel' here and there – probably because it's his third book for Hard Case Crime, a US publisher specialising in hard-boiled crime novels, but it's really a horror story about a boy who can talk to dead people. I wonder if people describe it as crime because that sells better than horror? I am immediately defensive of the genre. Look: Later has a lot of non-stationary cadavers and some Faustian pact-making. Ok, so it's got a detective character in it, and a serial bomber, but all horror has inevitable crime on the side. Arguably Misery is a crime novel about a kidnapping; Cujo is a crime novel about animal welfare and failing to protect your pet from rabies; and the Shining is a crime novel about domestic abuse. I may revisit this topic as it's so vexing.
LW: I think Jessie Greengrass is one of the best writers around. Her debut novel Sight, and short story collection An Account of the Decline of the Great Auk, According to One Who Saw It, were truly brilliant. She has followed suit with the terrifying The High House (Swift Press), about a family in a time of advanced climate crisis taking shelter from floods. I wrote about it here.

A couple of weekends ago I read Black Buck by Mateo Askaripour, a NY Times bestseller in the US and out here in May (John Murray Press). Dispensing sales mantra along the way, this is a madcap American Dream satire telling the story of Buck, who joins a culty start up as the only black man in the office, and his precipitous but perilous rise to industry star.

And I finally picked up Forty-One False Starts by Janet Malcolm (Granta), really wonderful, deeply enjoyable portraits of artists and writers, compelling whether or not I came to the subject with prior knowledge.



LW: I now own a glasses chain with little fruit shaped beads. They're an old fashioned thing, but apparently the kids are into them right now. Either way, as a glasses wearer when I'm online which is basically 90% of my waking existence, why didn't I buy one before now??

You might have spotted social media was abuzz with excitement about a Glossier discount code for 50% off a few weeks back. Joining the frenzy, I got the Haloscope highlighter, rose Balm Dot Com (and no, I don't care if it's just fancy Vaseline), the Boy Brow (which I was sceptical of the hype for, but actually is extremely quick and easy to use and takes up almost no space in my makeup bag) and the Super Bounce Serum.

And on a whim I added Lottie London's Oil Slick Lip Gloss to my ASOS basket. I hadn't tried the brand before, which sounds like it's for a young audience, and I'm not usually a fan of gloss because my hair always immediately plasters itself to it, but this stuff is blessedly non-sticky, more like an oil than a tacky gloss. A new fave.

LC: Trying to find a good sports bra postpartum, mid-lockdown is proving to be one of the most dispiriting shopping experiences of my life. I did some homework and worked out my size, ordered a Shock Absorber bra, and when it arrived, the band was way too tight. I ordered these bra extenders from M&S. Pack of three, 7 quid, bish bash bosh! The bra now fits! It's a revelation. I suppose this is something people already know about and I'm arriving to it really late as usual, but I'm thrilled.

LW: I also got some bras recently, from the Swedish brand Lindex. The clasp on my previous everyday bra literally started rusting during lockdown because I hadn't replaced it – or worn it – in so long. My new bras are great. Really comfy, affordable, good quality and just the right fit. But this purchase was also motivated by turning 35 tomorrow, a milestone in that I can no longer tick the 25-34 category on forms, and feeling that a tenet of adulthood is having a good bra.

LC: I continue to knit. See the pic above of a nice cable beanie for Sarah Griffin, whose zines have brought me so much joy this year.

I'm about to embark on a more ambitious project and hope to have an impressive photo for our next Browser. I had to get a socially distanced knitting tutorial from Tramp's own Sophie White about it. I enjoyed this NYT article Black Women Are Knitting Their Way Into History about rebuilding lost visual history.

This article includes an incredibly cool photo of Darci Kern recreating a photograph of Sojourner Truth posing with needles and yarn.



LC: How about something outdoorsy? Too wholesome? How about Out Alive:
Raging rivers, hungry bears, huge avalanches – no matter how prepared you are, a walk in the woods can go from innocent to disastrous in the blink of an eye. Out Alive is a podcast series about real people who survived the unsurvivable. Each survivor takes you through what happened, from the packing mistakes to the missed signals to the plain bad luck, while experts and witnesses weigh in on how things went wrong.
There's an episode titled The Mountains Called, I Shouldn't Have Listened.

My other podcast recommendation is Maintenance Phase. It's a very smart take-down of diet culture by two witty hosts who have terrific chemistry.
LW: I've been dipping into The Boring Talks, a very calm podcast about boring subjects one person is particularly passionate about. Here's a good one about jigsaws.

One Last Thing!
Spring is here and so are new books from Mona Eltahawy, Sophie White and Niall Bourke. Treat yourself!

Check them out here.