Browser 14: pathetically grateful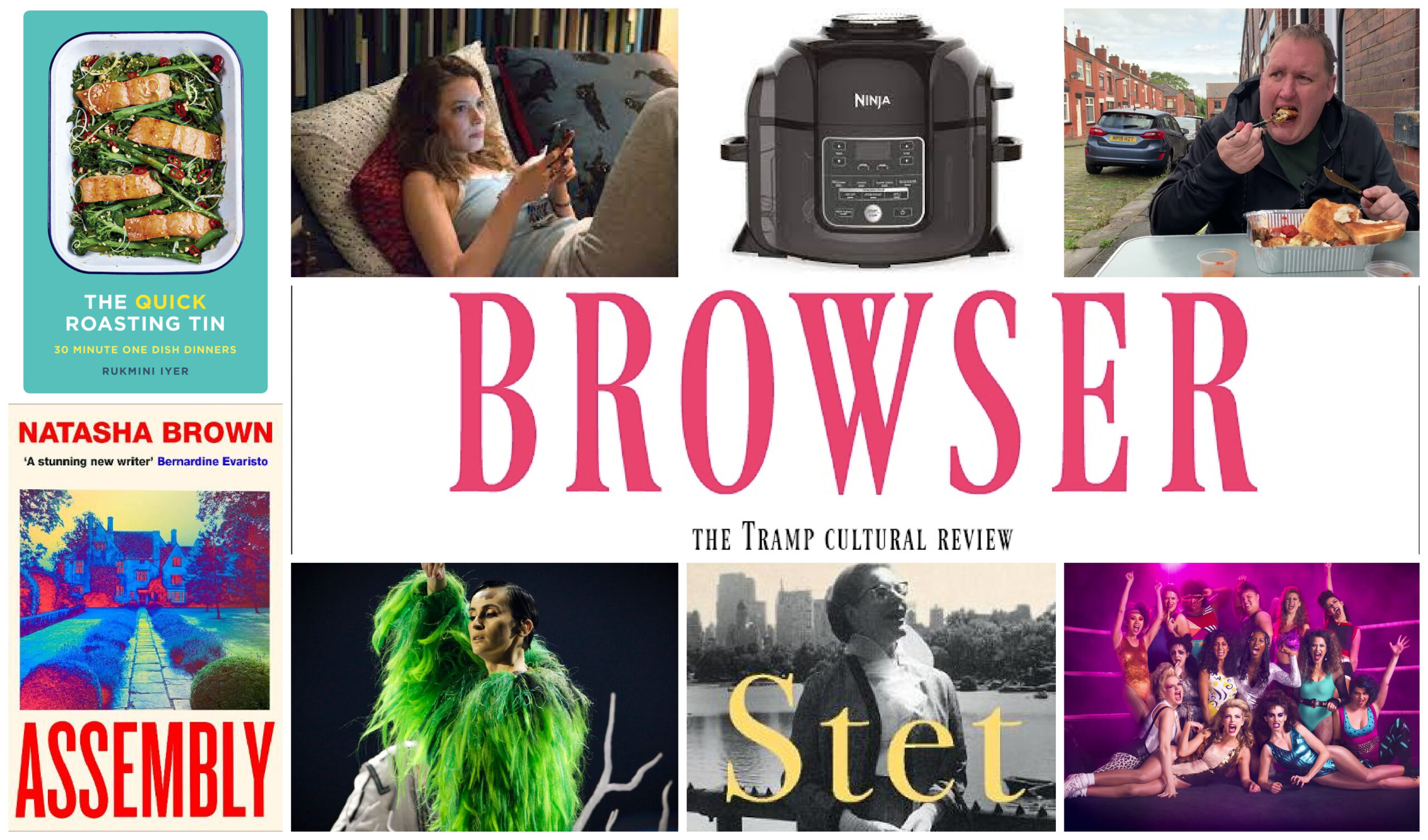 What we're browsing, watching, reading, eating




Sarah Davis-Goff is back! (SDG): One thing motherhood, and all those hours staring at the tv at strange hours while a tiny beautiful beast sucks the life out of me has shown me is that, given enough time, my brain will learn to love anything. I love the gentle blandness of daytime tv now: buying houses abroad, chat shows, dimly lit gameshows, I'll watch it all and I'll be pathetically grateful. That and Suits is about all I'm able for (hello Gina Torres.)

Laura Waddell (LW): I've just finished Scotland's Home of the Year, which is a great excuse to have a nosy into people's houses. I'm not sure the overall standard quite matched previous years, maybe they're running out of really spectacular places to profile, but nevertheless there were some gorgeous places. It's important that they feel lived in and loved, not just dressed up for airbnb, because it's about home and not house after all. I don't want to look at someone's investment purchase, I want to look in their knicker drawer as well as at their lovingly restored beams.

I've been mindlessly rattling through sitcoms and dramedys in the past month. Glow, starring Alison Brie and Betty Gilpin, about the early days of women's wrestling in the 80s was good fun, and I particularly loved Gayle Rankin's turn as Sheila the She-Wolf/Liza Minelli. Love, another Netflix original, about an odd coupling – Gillian Jacobs is very compelling as Mickey, a radio producer in AA meetings. And watching Diane Morgan in Motherland was eerily like seeing my childhood best friend, who I lost touch with, as an adult, smoking in the playground and rolling her eyes.




[LW]: I've become increasingly interested in social media, crowdfunders, and scammers who project a personal identity that isn't quite real in order to profit from it in some way. A bit like Anna Delvey, who pulled the wool over the eyes of New York rich kids by pretending to be a German heiress, but I think there are lots of people doing this on a smaller scale, partially encouraged by social media platforms that reward filtered images and sob stories, and partially out of sheer opportunism.

I found this LA Mag profile of "Twitter power broker" Yashar Ali interesting – especially the bit about lack of oversight into people who collect money promising charity donations.

In a completely different direction, I stumbled upon Rate My Takeaway – a Leeds Youtuber who sometimes goes viral for his honest video reviews of food, usually from local, hole in the wall type places. His video This Grandma In Bolton Cooked And Sold Me Breakfast From Her House got me into it. He takes his own table and sets it up in the street outside. I'm not a breakfast person, but I was invested.




SDG: My mother gave me a copy of Stet: An Editor's Life by Diana Athill literally years ago and I only just managed to pick it up there recently. I LOVE it, Diana Athill has this gorgeous, genuine and generous voice. Reaching her gossip about André Deutsch (who sounds like the kind of fucking nightmare we're all too familiar with working for boring middle aged male publishers), Jean Rhys and the sex everyone was having in the 50s is startlingly familiar, though her voice makes everything feel fresh. She reckoned they could sell no more than about 800 copies of a good debut novel. It makes me feel really really good that we reliably beat that.
LW: I've also been meaning to read that for ages! I just finished This One Sky Day by Leone Ross which is a gorgeous, sensual, fantastical trip to the fictional island of Popisho as it's preparing for the Governer's daughter's wedding. It's filled with magic, lust, food, and people reconnecting with lost loves. I really enjoyed it.

I'm currently on the crisply written Assembly by Natasha Brown, about a black woman with a successful banking career who goes to her boyfriend's parents' anniversary party at their big country house, anticipating microaggressions. It's a slim book with a lot of social layers, observed in a distinct, detached, wry voice.


SDG: Our slow cooker packed it in so we've bought a Kitchen Ninja! Please give me ideas.

LW: I recently bought a copy of The Quick Roasting Tin by Rukmini Iyer, the latest in the series. I LOVE these books and can't recommend them strongly enough. This one is all about convenience and easy dinners, but still makes me feel like I've achieved something. It's a simple concept that works so, so well. It's easy to make substitutions although there are plenty of vegetarian recipes anyway, they help me get more vegetables into my weekday cooking, and everything is delicious. I've made a couple of gorgeous pasta bakes so far from this one that are definitely making their way into regular rotation. I will buy every cookbook Rukmini Iyer brings out.




SDG: The great unsung hero of contemporary Irish storytelling Ian Maleney has a true crime podcast and it's FUCKING GREAT. It's called The Witness, you'll find it wherever you get your podcasts.
LW: I second this! I've just started listening to it and I can already tell it's going to be special. Other than that, I got extremely into Eurovision this year. More so than usual. I guess we're all desperate for a sense of event? My highlight was Ukraine's entry, the band Go_A with their song Shum, which contains traditional throat singing and is beautiful and badass all at once. I recommend both their Eurovision music video, with its horses and eagles, and the original music video, which contains hazmat suits and Chernobyl. I also bet a tenner on the UK coming last, and won.


One Last Thing!
Tramp Press Audio has landed!

Get Corpsing read by author Sophie White here.