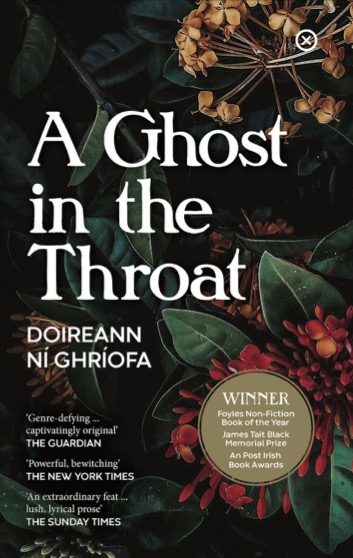 Find Your Local Bookshop
A Ghost in the Throat (2021 paperback edition)
Doireann Ní Ghríofa
€11.00
WINNER Book of the Year, the Irish Book Awards
WINNER Foyles Non-Fiction Book of the Year
SHORTLISTED Rathbones Folio Prize
SHORTLISTED Desmond Elliot Prize
SHORTLISTED Gordon Burn Prize
We are thrilled to announce that A Ghost in the Throat has been shortlisted for the prestigious Michel Déon award!
'When we first met, I was a child, and she had been dead for centuries.
I am eleven, a dark-haired child given to staring out window … Her voice makes it 1773, a fine day in May, and puts English soldiers crouching in ambush; I add ditch-water to drench their knees. Their muskets point towards a young man who is falling from his saddle in slow, slow motion. A woman hurries in and kneels over him, her voice rising in an antique formula of breath and syllable the teacher calls a caoineadh, a keen to lament the dead.'
A true original, this stunning prose debut by Doireann Ní Ghríofa weaves two stories together. In the 1700s, an Irish noblewoman, on discovering her husband has been murdered, drinks handfuls of his blood and composes an extraordinary poem that reaches across the centuries to another poet. In the present day, a young mother narrowly avoids tragedy in her own life. On encountering the poem, she becomes obsessed with finding out the rest of the story.
Doireann Ní Ghríofa has sculpted a fluid hybrid of essay and autofiction to explore the ways in which a life can be changed in response to the discovery of another's – in this case, Eibhlín Dubh Ní Chonaill's Caoineadh Airt Uí Laoghaire, famously referred to by Peter Levi as 'the greatest poem written in either Ireland or Britain during the eighteenth century.'
A devastating and timeless tale about finding your voice by freeing another's.
Praise for A Ghost in the Throat
The Sunday Times 'ONE OF THE BEST BOOKS OF THIS DREADFUL YEAR'
'Billed as a genre-busting blend of 'autofiction, essay, scholarship, sleuthing and literary translation', the book is an extraordinary feat of ventriloquism delivered in a lush, lyrical prose that dazzles readers from the get-go …'
'The book's triumph rests on several factors: the translation project is admirable; the authorial voice is empathetic; the treatment of issues that may not reflect well on teh author are delivered with honesty; and, above all, the language is sumptuous, almost symphonic, in its intensity … When you write like this there is almost nothing a writer cannot get away with.'
The Irish Independent 'A book like this comes along once every few years and obliterates every clear definition of genre and form. I mean no exaggeration here: A Ghost in the Throat is astounding and utterly fresh.'
'This is no tepid and stuffy reimagining of an 18th-century life. It is borne of great personal scholarship, without ever seeming polemical. This book has a long life ahead of it, burning bright and inspiring many.'
The Sunday Independent 'With luminous language and candid details, this book shimmers with honesty and scholarship. A truly original read.'
Totally Dublin 'a rich and compelling "oblique kind of holding", and a work of deep love.'
RTÉ Culture 'an extraordinary piece of work.'
JOSEPH O'CONNOR
'A love story, a poem, a reflection, an enchantment, a shimmering, beautiful and moving book about the nurturing sustenance of reading and rereading, how words can make time disappear.'
MARK O'CONNELL
'A strange, beautiful, and entirely unique book by a wildly talented and exciting writer.'
LAUREN ELKIN
'brilliant and heartfelt … brought me joy'
DAVID NICHOLS
'A wholly original hybrid of essay and auto-fiction'
EMILIE PINE
'An extraordinary book that braids the past and present, self and other into a new kind of poetry. Doireann Ní Gríofa writes with a magical kind of knowledge of herself and the world, and of the remembered and imagined, Eibhlín Dubh. This is a book about life, its wonder and its pain, written with hunger and grace, every line a charm.'
MICHAEL HARDING
'I was utterly absorbed by this beautifully written book. In her search for the 18th century poet Eibhlin Dubh, the author turns up mysteries about the past and present, about bees and ghosts, about child bearing, and the many layers of her own psyche. It cannot be synopsised. Except to say that this is the real thing; a fascinating story bristling with poetic power that must be read.'
SEÁN HEWITT
'This book is an absolute marvel. Doireann Ní Ghríofa does so much here with the body, poetry, womanhood, the way that literature lives. Everything.'