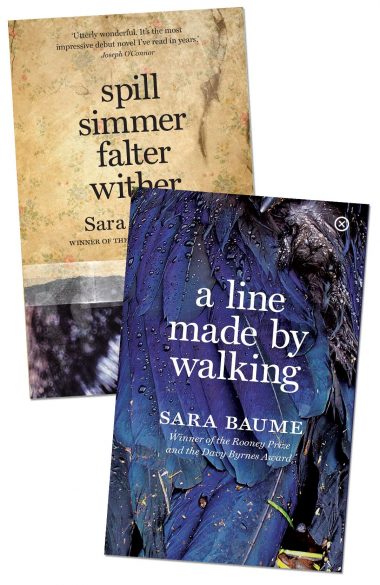 Find Your Local Bookshop
Bundle Offer: Sara Baume
€25.00
Out of stock
Buy Sara Baume's Goldsmiths-nominated novel A Line Made by Walking together with her multi-award-winning debut Spill Simmer Falter Wither for just €25. (Both paperback)
A Line Made by Walking
Shortlisted for the 2017 Goldsmiths Prize.
'Here is a novel of uniqueness, wonder, recognition, poignancy, truth-speaking, quiet power, strange beauty and luminous bedazzlement. Once again, I've been Baumed.' – Joseph O'Connor
'When I finished Sara Baume's new novel I immediately felt sad that I could not send it in the post to the late John Berger.  He, too, would have loved it and found great joy in its honesty, its agility, its beauty, its invention.  Baume is a writer of outstanding grace and style.  She writes beyond the time we live in.' – Colum McCann
'I was hypnotised' – Rick O'Shea
'Unflinching, at times uncomfortable, and always utterly compelling, A Line Made By Walking is among the best accounts of grief, loneliness and depression that I have ever read.' – Lucy Caldwell
'Fascinating because of the cumulative power of the precise, pleasingly rhythmic sentences, and the unpredictable intelligence of the narrator's mind.' – The Guardian
Spill Simmer Falter Wither
Winner of the 2015 Newcomer of the Year Award at the Bord Gáis Energy Irish Book Awards. Shortlisted for the Costa First Novel Award, longlisted for the Guardian First Book Award, longlisted for the Warwick Prize, winner of the Rooney Prize.
'Utterly wonderful. It's the most impressive debut novel I've read in years.' Joseph O'Connor
'The writing is superb … I had an image of all of language standing to attention, eager to serve this writer' Mary Costello
'An exceptional, startling, and original book' Colin Barrett
'Unbearably poignant and beautifully told' Eimear McBride
'Touching and weird and sometimes comical and sometimes heartbreaking' Kjersti Skomsvold
'An important and quite brilliant new Irish writing talent' Irish Independent
'An ambitious stylist with an astonishing eye for detail and a clear passion for language. But it is the beautifully measured control of plot and the authenticity of the narrative voice that most impresses' Irish Examiner
'A remarkable voice that grabs the reader early' Sunday Business Post
Out of stock