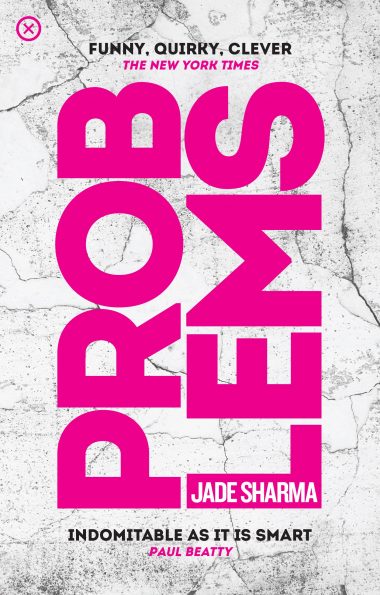 Find Your Local Bookshop
Problems
Jade Sharma
€15.00
Paperback
Addiction is so boring. Look at that dumb person doing the same thing over and over all the time and not doing much of anything else. That's addiction. Repeating the same thing, the same cycle, the exact same thoughts.
Maya is funny, observant, smart and self-destructive. Maya has problems: a sweet, handsome heavy-drinking husband she is no longer sure she loves. A detached older lover who will not take her frantic calls. Her overdue thesis and dead-end retail job. Her dying mother. Herself, most of all, and her escalating drug habit.
Problems is a novel of the body that happens in the head. It is direct, full-frontal, graphic, but tender and melancholic too. ­Maya's narration is explicit, upsetting and often shamelessly sexy. Through the unraveling of her marriage, the comedic awfulness of her visit to her in-laws, her obsession with her weight, and the constant intense physical ebb and flow of her drug use, Problems takes the reader on a compelling, uncomfortable and thrilling ride.
Girls meets Trainspotting with a shot of David Sedaris on speed, Problems makes a story of addiction and redemption fresh, necessary and desperately funny.
'If The Catcher in the Rye was reconfigured for the digital age … then it might look a little like this' – Irish Independent
'In a world that wants her to be tidy, thin and meek, Maya is a delightful other: chaotic, fearless, and larger than life.' – The Irish Times
'Maya is not polite, and although I found her captivating and charming, Sharma's goal is not to make her likeable. Maya is as horrible, and as fully human, as men in literature have always been allowed to be.'– New York Times Sunday Book Review
'Sharma's lucid intelligence makes this story of the death throes of a marriage between a junkie and an alcoholic impossible to get out of your mind.' – Vulture
'Debut novelist Jade Sharma writes in a voice that is equal parts irreverent and hilarious, depressive and hopeful, and Problems was by far one of the most interesting and uncommon books I read this year.'– Bustle
'With searing honesty and an unflinching gaze, Sharma brilliantly dismantles the brittle structures that so many young women today have built around themselves in the hopes that eventually the interior will match what's on the outside.'– Nylon