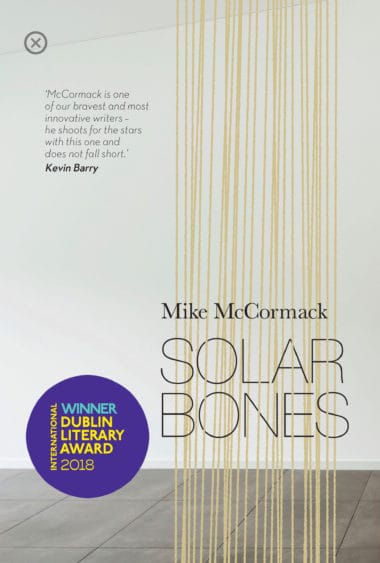 Find Your Local Bookshop
Solar Bones
Mike McCormack
€15.00
We cannot guarantee delivery in time for Christmas, so we recommend shopping with your local bookseller, or one of these great booksellers:
Paperback edition.
Winner of the 2018 Dublin Literary Award, winner of the 2016 Goldsmiths Prize, and the Bord Gáis Energy Irish Book Awards Novel of the Year 2016.
Once a year, on All Souls' Day, it is said in Ireland that the dead may return. Solar Bones is the story of one such visit. Marcus Conway, a middle-aged engineer, turns up one afternoon at his kitchen table and considers the events that took him away and then brought him home again. Funny and strange, McCormack's ambitious and other-worldly novel plays with form and defies convention. This profound new work is by one of Ireland's most important contemporary novelists. A beautiful and haunting elegy, this story of order and chaos, love and loss captures how minor decisions ripple into waves and test our integrity every day.
ISBN: 9780992817091
Praise for Solar Bones:
'McCormack is one of our bravest and most innovative writers – he shoots for the stars with this one and does not fall short.' Kevin Barry
'Excellence is always rare and often unexpected: we don't necessarily expect masterpieces even from the great. Mike McCormack's Solar Bones is exceptional indeed: an extraordinary novel by a writer not yet famous but surely destined to be acclaimed by anyone who believes that the novel is not dead and that novelists are not merely lit-fest fodder for the metropolitan middle classes.' – The Guardian
'We could quote from Solar Bones for pages and pages; the ending left us dazed and it was a struggle not to immediately reread it. An immensely powerful book that blends the sublime and the everyday in a way that, if it doesn't make you rethink the whole engineering profession, will definitely make you want to cheer McCormack onto this year's prize lists. One of our top reads of the year so far.' – BookMunch
'… hauntingly sad, but also frequently very funny – Proust reconfigured by Flann O'Brien.' – Literary Review
Praise for Mike McCormack:
'Unabashedly macabre, McCormack's obsessions at times converge with those explored by Ian McEwan, Will Self and JG Ballard, but his clever ideas and fluid, gracefully morbid style are all his own' GQ
'One of the most original and important voices in contemporary Irish fiction' The Irish Times