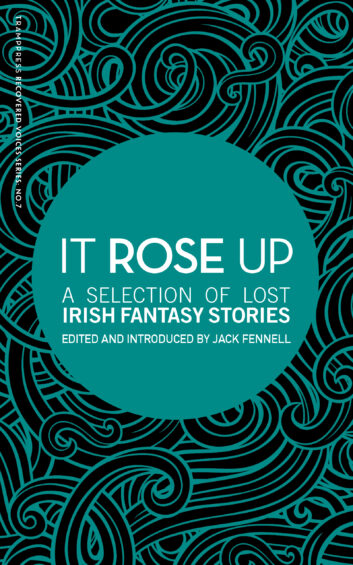 Find Your Local Bookshop
It Rose Up: A Selection of Lost Irish Fantasy Stories
Jack Fennell
€15.00
Listen to a sample read by Jack Fennell. 'What is a Ghoul?' (by Anonymous, 1890)
—-
I cannot remember my father or my mother; oh, wretched that I am!
Had I either? My memory goes back three months – no further.
Every day, I live those three months over and over again.
A mystical battle between foreign gods and local saints is unleashed as idols are mistaken for garden ornaments; an ambiguous wizard spies on his neighbours from an invisible tower; a cursed duelling pistol influences its owners to commit suicide.
Edited and introduced by Jack Fennell, this collection of lesser-known works of classic Irish fantasy – with strange combinations of occultism, electricity, magic and playfully Biblical archetypes – illuminate a side of Irish literary history that is often overlooked.
Contributors:
Jane Barlow (1856-1917) wrote under a couple of different pseudonyms, most notably 'Felix Ryark' and 'Antares Skorpios,' the latter of which she shared with her father, the Reverend James William Barlow, Vice-Provost of Trinity College Dublin. As Felix Ryark, she published A Strange Land (1908).
William Carleton (1794-1869) was born in Clogher, County Tyrone. The son of a poor Catholic tenant farmer, Carleton converted to Anglicanism as an adult, and his work —  particularly Traits and Superstitions of the Irish Peasantry (five volumes, 1830-1834), featuring pronounced anti-clericalism and stereotypical images of Irish country people as uneducated, superstitious alcoholics — can perhaps be read as a cathartic repudiation of his unhappy upbringing. Though his reputation remains controversial, he is noted for his vivid, Gothic depictions of the Great Famine, and sympathetic portrayal of those worst affected, in his novels The Black Prophet (1847) and The Squanders of Castle Squander (1852).
George Egerton (1859-1945), or Mary Chavelita Dunne Bright, was born in Melbourne to a Welsh mother and an Irish father, and over the course of a well-travelled life lived in Australia, New Zealand, Chile, Germany, New York, England, Detroit and Norway, but she considered herself 'intensely Irish' above all else. Following the death of her mother in 1873, the family came to depend upon Mary's income; this pressure, combined with the fallout from her elopement with Henry Peter Whyte-Melville, delayed her writing career until the publication of her collection Keynotes in 1893. She chose her pen-name in homage to her mother (Isabel George Bynon) and her second husband (Egerton Tertius Clairmonte). Although usually associated with the New Woman, her work resonates with a variety of fin de siècle  and modernist artistic movements, combining sexual liberation and social critique with experimental prose.
G. Keller (1873-1942) was born Thomas Goodwin Keohler in Belfast, to a flour-milling family who were originally from Enniscorthy, Co. Wexford. As an adult, Thomas found a lifelong post with Hely's of Dame Street, the stationery suppliers where Leopold Bloom was formerly employed in James Joyce's Ulysses; Keller and Joyce corresponded regularly until the latter's death in 1941. Keohler was a founding member of the Irish National Theatre Society in 1903, as well as a prolific poet, actor and essayist. Thomas changed the spelling of his surname by deed poll following the outbreak of World War I, though he used the original spelling as an occasional pseudonym, as well as the pen-name 'Michael Orkney,' under which he pursued his interest in mysticism.
Hugh A. MacCartan (1885-1943) was born in Castlewellan, Co. Down, though he lived in Sandymount in Dublin for most of the latter part of his life. As a Civil Servant for the Free State government, he was the Dublin and London publicity manager for the North-Eastern Boundary Bureau, a body set up in 1922 to argue for the transferral of certain areas of Northern Ireland to the Free State; in this capacity, MacCartan oversaw the compilation of information booklets outlining the Bureau's work, which led to the establishment of the Boundary Commission in 1924. Later, MacCartan worked as an assistant principal officer of the Department of Agriculture. A proud Ulsterman, MacCartan's best-remembered literary works include Silhouettes: Some Characters Studies from North and South (1918) and The Glamour of Belfast (1921), as well as the novel O'Neill's Folly (1929).
Charlotte Elizabeth ('L') McManus (1853-1944), a native of Castlebar, Co. Mayo, is best remembered today for her novel The Professor in Erin, originally serialised in Arthur Griffith's Sinn Féin Weekly in 1912, which takes place in a parallel universe where Hugh O'Neill defeated the English at the Battle of Kinsale in 1601. A nationalist and a member of the Gaelic League, she is also known for her patriotic historical novels, and during the Civil War, she supported the Anti-Treaty side. She resided in Torquay for a period, before returning to her native Mayo.
J. O'Connor Duffy (1890-1949) was born in Ballboughal, Dublin, but grew up in Duleek, Co. Meath, and the landscape of rural Meath is central to a great deal of his work. He studied at Queen's College Belfast (known as Queen's University Belfast from 1908), where he qualified as a teacher. He taught in Dungannon, Co. Tyrone, and was later the Principal of Creggan National School in Antrim. He was a vocal opponent of Partition. As a writer, he was a regular contributor to the Meath Chronicle and The Irish News newspapers, and was also a frequent scriptwriter for BBC Radio and Radio Éireann.
Mícheál Ó Gríobhtha (1869-1946) was a native of the townland of Caherea, near Lissycasey in County Clare. A fluent Irish speaker, he joined Conradh na Gaeilge (the Gaelic League) while working in Belfast, and became a secretary of that organisation while teaching language classes in Glasgow. After taking up a post with the Department of Education in Dublin in 1922, he became a prolific translator, dramatist, and author of original fiction: his works include adventure novels, detective fiction and Irish translations of Wilkie Collins' The Moonstone and H. G. Wells' First Men in the Moon. From 1936 to 1937, Ó Gríobhtha served as the principal translator of the original English drafts of the Constitution of Ireland into Bunreacht na hÉireann. His collection of short stories and essays Cathair Aeidh (1937), from which "The Mule" in this book is taken, won him the Craoibhín Prize for Irish-language literature.
Tomás Ó Máille (1880-1938), a native of Muintir Eoghan in County Galway, earned his Bachelor's degree at the Royal University of Ireland in 1905, in English, Celtic Languages and Metaphysics; later he earned his MA under the linguist John Strachan in Manchester, and his PhD at the University of Freiburg. His academic career included a period indexing Irish manuscripts for the British Museum, a Professorship of Irish at NUI Galway, and tenure as the Chair of Old Irish at University College Dublin. He was the editor of the literature and folklore journal An Stoc from 1917 to 1920, and in addition to his published academic work on Old Irish philology, he also rendered a number of Old Irish epics into accessible Modern Irish, and published collections of folklore from Connemara and the western islands.
Violet Russell (1868-1932) was born Violet Rose North in England, and came to Ireland in 1895 with the American publisher and mystic J. M. Pryse. Initially a contributor to The Irish Theosophist (under the pen-name 'Laon'), she eventually succeeded Pryse as the journal's publisher. She was introduced to George William Russell (Æ) through mutual acquaintances in the Dublin Theosophical Society. They were married in 1898 and had two sons, Brian and Diarmuid. She is remembered in the present day as the author of Heroes of the Dawn (1913), which re-tells the stories of Fionn and the Fianna in a modern, accessible style for younger readers. Violet was diagnosed with cancer in 1929, at which point her husband undertook a lecture tour in the USA, ostensibly to raise money for her treatment. She died in 1932.
Dora Sigerson Shorter (1866-1918) grew up in a bohemian household in Dublin, where her parents regularly entertained writers and artists. She was close friends with a number of luminaries of the Irish Literary Revival, including Katharine Tynan (see below), and in 1895 she married the British literary critic Clement King Shorter. In a biographical note for a posthumous reissue of Dora's collection The Sad Years and Other Poems (1918, 1921), Tynan wrote that her death in London in 1918 was of a 'broken heart,' caused by the executions of the leaders of the 1916 Rising.
Katharine Tynan (1859-1931), originally from Clondalkin, Co. Dublin, was a prolific poet and novelist. After her poetic debut in 1878, she wrote over a hundred novels, twelve short story collections, five autobiographical volumes, numerous poetry collections and a biography of the Temperance movement leader, Theobald Mathew. She was also a notable editor and anthologist, adding some women writers to Charles Read's 1879 Cabinet of Irish Literature series (1902-3) and assembling an important poetry anthology, The Wild Harp (1913). She died in Wimbledon, aged 72.