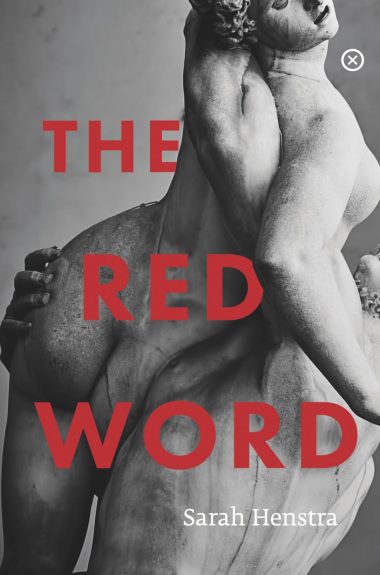 Find Your Local Bookshop
The Red Word
Sarah Henstra
€15.00
The myths don't have a clue what to do with women. They have nothing to say about us whatsoever. We need to build our own fucking mythology.


The battle of the sexes goes to college in this smart, thrilling debut by university English professor Sarah Henstra. University student Karen is swept up in back-to-school revelry and when she wakes up after a frat party lying on the lawn of Raghurst, a house of radical feminists, she gets a crash course in anti-frat activism on campus. GBC ('Gang Bang Central') is especially notorious, she learns, with several names featured on a list of date rapists compiled by female students.
Despite continuing to party at GBC and even dating one of the brothers, Karen is seduced by the intellectual stimulation and indomitable spirit of the Raghurst women. As Karen finds herself caught between two increasingly polarized camps, her feminist housemates believe they have hit on the perfect way to expose and bring down the fraternity as a symbol of rape culture… but the war between the houses will exact a terrible price.
The Red Word offers a lyrical yet eyes-wide-open account of the epic clash between fraternities' time-honoured 'right to party' and young women's demands for sexual safety and respect. With strains of The Marriage Plot and reminiscent of the work of Zadie Smith, Donna Tartt and Tom Wolfe, The Red Word arrives on the wings of furies.
Read an extract here.
Winner of the Governor General's Literary Award

'I haven't been able to stop thinking about The Red Word since I devoured it in one sitting.' – Louise O'Neill
'An aesthetically arresting interrogation of rape culture . . . Timely and brilliant.' – Kirkus Reviews
'An incisive campus novel . . .  [The Red Word] raises essential questions surrounding class privilege, rape, and gendered power dynamics on campus.' – Publishers Weekly
'Henstra draws on Greek mythology to comment on contemporary issues—how assault can take on ambiguity and how the internalization of rape culture convolutes gender politics, to the point where constructive conversation is nearly impossible.' – New Yorker

'Sarah Henstra's The Red Word will get you fuming, laughing, cheering, and most of all, thinking.' – Cosmopolitan
"Timely and incisive […] Infused with Homerian weight, the novel is appropriately Greek-focused, centering on a controversy between bad boy fraternity house Gamma Beta Chi, the radical feminists of Raghurst, and a young woman caught between the two when a set-up to call out the fraternity's rape culture leads to unintended tragedy."- Harper's Bazaar
"Set in the 1990s, The Red Word interrogates the prevailing political preoccupations of that time: gender politics, third-wave feminism, and consent . . . A timely and nuanced dissection of rape culture." – Booklist
"[Henstra] writes sensitively and fluently on sex, desire, rape and power… an almost seamless mix of high and low cultures that offers a timely treatise on rape culture in elite universities." – Irish Times
"… a fiercely smart, independently-minded page turner that stays light to the touch and full of youthful candour." – Independent